Go To Guide for Local Museums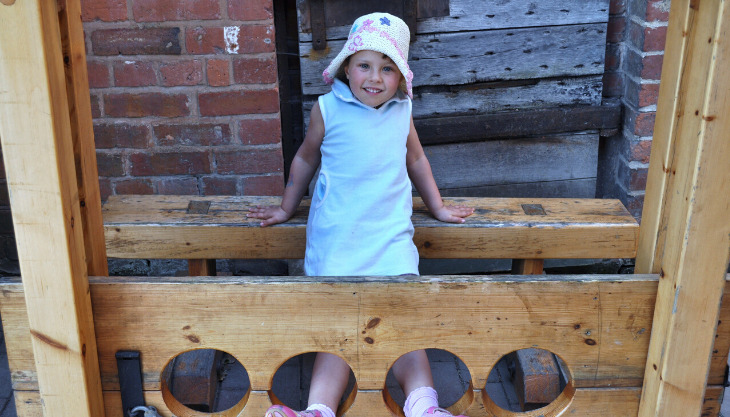 Museums are such a great way for parents/carers to teach children about so many things; our past, their heritage, the town they live in. Inquisitive minds need visual stimulus to help all those history lessons to come to life, and museums these days are no longer the stuffy, silent venues we may recall from our childhood. Costumes, characters, hands-on workshops, technology and interactive displays all play a part in today's visitor experience.   
They're also a great idea for a rainy day activity!
So if you're eager to find a new museum to visit with your family, take a look at these suggestions for where go:
---
Black Country: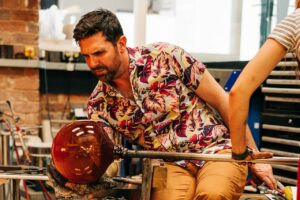 Stourbridge Glass Museum
Celebrating 400 years of history, Stourbridge Glass Museum, in Wordsley High Street, is an exciting new addition to the Black Country Heritage Trail – and a visit is sure to make for a perfect school holiday activity no matter what the weather's doing. With points of interest for all ages, the Museum features engaging interactive displays and live glass making demonstrations designed to keep children and grown-ups enthralled for many hours.
Black Country Living Museum, Dudley
An immersive experience from start to finish, Black Country Living Museum is an award-winning open air museum (where some of Peaky Blinders was filmed), in Dudley, that tells the story of one of the very first industrialised landscapes in Britain. Visitors can explore over forty carefully reconstructed shops, houses and industrial areas that represent the Black Country's story. History is brought to life before you eyes, with costumed characters waiting to chat to you along the way. The museum is now a TikTok sensation so your children may be more familiar with it than you think!
Red House Glass Cone, Wordsley
The brick cone is one of 4 left in the UK that was used in the glass manufacturing process. Now a Visitor Attraction owned and
managed by Dudley MBC, the Cone celebrates Stourbridge's glass heritage and is home to designer-maker studios, and a hot glass studio where you can watch glass blowing demonstrations.  Children are very welcome and there's often a free trail during school holidays.​​​​​​
Wolverhampton Art Gallery
You can explore more than 300 years of art in this free, city centre gallery with fantastic changing exhibitions and permanent galleries. There are regular craft events for families held during school holidays. Don't miss: Paintings by world-famous English landscape and portrait genius Thomas Gainsborough and the Sensing Sculpture gallery showcases tactile sculptures where touch is as important as sight.
Bantock House Museum
Wolverhampton's Bantock House and Park is the perfect place for a full day out, mixing the beautifully refurbished Bantock family home with 43 acres of parkland and formal gardens. The house is packed with period furnishings and locally made enamels, japanned ware, jewellery, toys, dolls and Pre-Raphaelite paintings and there are interactive activities for young children throughout the house.
Bilston Gallery
Bilston Gallery features a fantastic display that showcases everything that makes the Black Country the place it is. From the incredible range of fossils and minerals, to the inspired creativity of cut steel jewellery and the world-famous Bilston Enamels. Don't miss the family-friendly dinosaur room which is home to Barry the Baryonyx. Also on display are real fossils and dinosaur fossil casts such as the famous Archaeopteryx, Tyrannosaurus Rex and Triceratops.
The New Art Gallery Walsall
The New Art Gallery Walsall presents, collects and interprets historic, modern and contemporary art in innovative and challenging ways. Free to enter this award-winning gallery is well worth a visit for the architecture alone. Opened in February 2000 to national acclaim, there's amazing views of Walsall from the roof terrace plus monthly sessions for toddlers, free art trail activity bags and holiday workshops for families and children.
Wolves Museum
The Wolves Museum is a fun-packed football experience for all the family, young or old. There are four areas to visit – an interactive Games Zone, History Zone, Club Zone and the Club's very special Hall of Fame. Kids of all ages can be kept amused for hours taking a penalty against one of Wolves' legendary keepers, before going between the sticks to face some of Wolves' top past and present marksmen.
---
Birmingham:
Thinktank, Birmingham Science Museum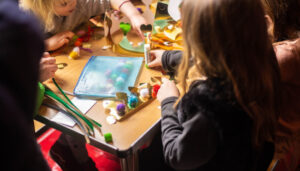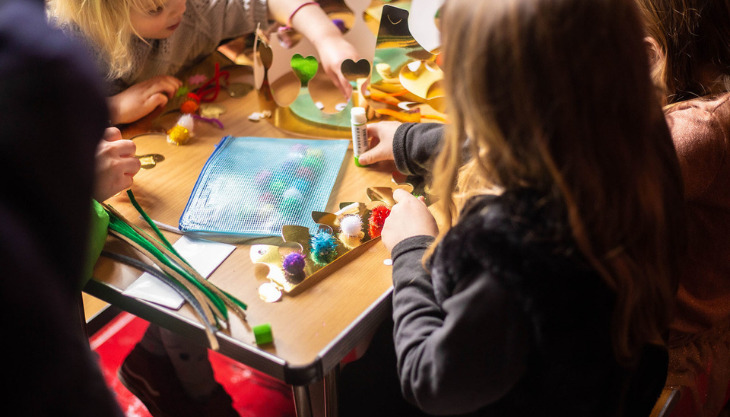 Birmingham's award winning science museum. Highlights include Mini Brum, an exciting child-sized world, aimed at under 8s, featuring several different play zones including a transport area, shops, park and construction site with slide, the only 4K Planetarium in the Midlands and The Science Garden, an outdoor discovery space packed with surprises and fun activities bringing themes of engineering, mechanics and transportation to life through over 30 hands-on exhibits.
Birmingham Museum & Art Gallery
Closed until 2022. 2022 will herald a programme of new exhibitions as well as celebrating the city's treasures such as
the Staffordshire Hoard, world-famous Pre-Raphaelites and more recent items from Collecting Birmingham such as the Koh-i-Noor curry house booth.
Museum of the Jewellery Quarter, Birmingham
Currently remains closed. Explore this extraordinary time capsule on a lively guided tour. Here you will find things left as they were on Smith & Pepper's last working day. Gather round the main jewellers' bench to watch a demonstration of the traditional skills of this fine trade and discover what it was like to work here.
---
Worcestershire:
Hartlebury Castle, Hartlebury
Hartlebury Castle, in Worcestershire, was the home of the Bishops of Worcester from 855 to 2007. Three of our bishops became saints, two were burned at the stake for their faith, one became the Pope who refused Henry the VIII his divorce and another was present at the execution of Mary Queen of Scots. They have amazing stories to tell and their history and that of Hartlebury Castle is inextricably linked with the history of the nation. It is also home to Worcester Country Museum and the venue regularly holds events and workshops and activities for children during the school holidays.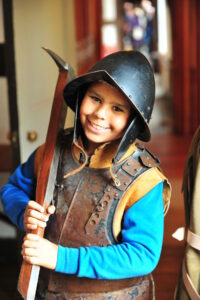 The Commandery, Worcester – Worcester City
The museum is housed in a beautiful building with an 800 year history. Set in the heart of Worcester city, The Commandery is most famous for being the Royalist Headquarters during the deciding battle of the English Civil War – the Battle of Worcester 1651. Interactive displays will take you
back over 350 years into a murky, conflicted 17th century Worcester of fiery debates. Experience life as a soldier 300 miles from home, test your skills at battle strategy and come face-to-face with Oliver Cromwell.
Worcester City Museum and Art Gallery
Housed in a beautiful Victorian building in the city centre, it's within walking distance from Worcester Foregate Street Train Station. Immerse yourself in the special exhibitions, events and children's activities throughout the year. The museum gallery has lots of amazing things to see including dinosaur footprints, Worcestershire Sauce archive and many more interesting objects from a real Roman mosaic to a Native American totem pole.
Bewdley Museum
The Bewdley Museum is situated in the heart of Bewdley near to the River Severn and backing onto the idylic Queen Elizabeth II Jubilee Gardens. The museum offers a varied programme of exhibitions and events throughout the year with appeal for all ages. During the school holidays  themed craft activities for children are run. Go underground in the World War II air raid shelter. Guided tours help to recreate the 1940s experience.
Avoncroft Museum, near Bromsgrove
The museum houses twenty five historic buildings that range in date from Worcester Cathedral's fourteenth century Guesten Hall roof to a post second world war prefab from Birmingham, covering over 700 years of Midlands history. Among their special collections is the National Collection of Telephone Kiosks! Special event run throughout the year including: 1940's Days, outdoor theatre shows, vintage beach days and Medieval Day.
Forge Mill Museum and Bordesley Abbey, Redditch
Forge Mill Needle Museum in Redditch is a small museum that showcases the rich heritage of the needle and fishing tackle industries. Models and recreated scenes provide a vivid illustration of how needles were once made, and how Redditch once produced 90% of the world's needles! On the same site you can find the ruins of Bordesley Abbey – a medieval Cistercian Abbey which has been extensively excavated. There's an App and Tablet that family's can collect from the visitor's centre to learn more about the ruins.
Museum of Royal Worcester 
A family-friendly venue with interactive exhibits and fun, themed trails to follow and discover – they even have magnifying glasses for your little detectives!  Learn about the history of Worcester's ceramics production and the skilled craftsman who have created pieces shipped globally. Access: full wheelchair access with lifts. Hearing loop. Audio-guides for visually impaired visitors.
The Tudor House Museum
A Grade 2 listed Tudor House spread over three floors and small, but award winning, garden.  Some fascinating artefacts with collections including miniature pottery, a railway collection, lace collection and Staffordshire 'Blue' pottery. Step back in time while you peep into Mr Walton's Tailor Shop window display! Access: most of the ground floor and gardens are accessible for wheelchairs, but there are stairs leading to the upper floors.
Worcester Medical Museums
Fascinating insight into the history of medicine and medical procedures over
the last 250 years. Some of the displays may be quite shocking for younger children, depicting limb amputation – although that may be among the most fascinating for many children.  We all know what a hit Horrible Histories is!  Access: Ramped access and wheelchair access throughout.
RAF Defford Museum at Croome.
Did you know that Croome was once a top-secret RAF base? RAF Defford was a top-secret airfield built in the grounds of Croome park, and it was here that airborne radar was tested and developed. There are some fascinating stories and memorabilia on display at their RAF museum, housed in some of the original airbase wartime buildings.
Engine House
Take the Severn Valley Steam train to Highley for a visit to The Engine House, the Visitor & Education Centre.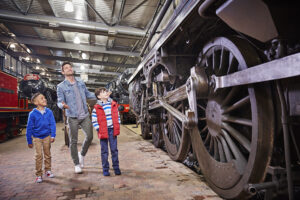 Home to a reserve collection of full-size steam locomotives, the stunning Engine House Centre at Highley takes you on a fascinating journey behind the scenes. Marvel at the massive locomotives, delve into the intriguing history of Britain's railways, enjoy themed exhibitions of unique railway vehicles and meet the engine that collided with a camel! A well-stocked gift shop and our restaurant, the 'Flag & Whistle Food Stop', with its panoramic views across the Severn Valley, also awaits.
---
Herefordshire:
Black and White House Museum, Hereford
A stunning Jacobean house dating back to 1621 in the very centre of Hereford, furnished with period style furniture (including a baby walker), interesting artifacts, and paintings. We love their hands-on activities for children (puzzles and
replica clothing) and their themed events – the gruesome medical practices week was particularly enjoyed! Access: Fully accessible ground floor, with virtual tour of upstairs for those who cannot climb stairs. Braille and tactile images for visually impaired visitors.
Hereford Museum and Art Gallery  
Even the outside of the Victorian building is interesting – can you spot the monkeys? Inside there are fascinating and regularly changing exhibitions, all linked to the local history of Hereford.  There are hands-on fun things to do for all the family – we love the beehive where you can watch the bees at work and try to spot the queen bee. The art gallery in the same building hosts temporary exhibitions, while the Brian Hatton gallery displays the work of this famous local artist who was killed in the First World War. Access: Lift access to the Museum.  The Woolhope Room is accessed via stairs only.
The Mappa Mundi Exhibition and Chained Library 
The Mappa Mundi is a unique medieval treasure, believed to be over 720 years old, and is a big map of the world and its history as depicted by Christians. It is housed along with many other fascinating artifacts, including the Chained Library – the largest surviving chained library in the world, with around 1,500 books.  We love the interactive displays, especially the chalk rubbing. Access: all exhibits are on the ground floor with level access throughout and wide doorways.
The Waterworks Museum, Hereford
A massive collection of exhibits which make us really appreciated our water! How did the Greeks and Romans move water uphill? Discover replicas of their ingenious devices, along with hot air engines which changed how we get our water.  The working engines are fantastic to see in action.  We also really love the Heritage water park for some hands-on water fun outdoors.  A great day out. Access: Wheelchair access to most areas, with wheelchair and powered mobility scooter for outside ramped areas available to loan.
Cider Museum, Hereford
Hereford has been a centre for apple growing and cider making for centuries. Find out where our food comes from. We love the vintage film and photos, which are fascinating, and the 19th century style smocks the children can dress up in. Access: Ground floor fully accessible, lift to Beam Press gallery, and computer displays of the cellars (inaccessible for wheelchairs) – price reduction for wheelchair users.
The Time Machine Museum of Science Fiction – Bromyard, Herefordshire
A fabulous collection of real props, memorabilia and artefacts from the very best sci-fi shows and films!  Props and costumes from Doctor Who (including a real Tardis), Star Wars, Red Dwarf and Gerry Anderson full size puppet displays – think Thunderbirds, Joe 90, Stingray and Captain Scarlett. Our favourite from this museum – we love it all!  Access: Sadly this one is not wheelchair accessible.
---
Warwickshire:
Herbert Museum and Art Gallery, Coventry
Gain a fresh perspective on the legend of Lady Godiva, discover your ancestors' history in the Coventry Archives, and explore Coventry's history from the 1500s onwards.
Coventry Transport Museum
Coventry Transport Museum houses the largest publicly owned collection of British vehicles on the planet and tells the story of a city which changed the world through transport. Visitors can expect captivating displays, interactive galleries, and highly immersive exhibitions – a day to remember. Home to the fastest vehicle in the world, walk through The Blitz experience or enjoy a ride in one of three 4D simulator rides.
Market Hall Museum, Warwick
Popular exhibits include The Museum Bear, Oisin (our tweeting Giant Irish Deer skeleton),the historic Wilmcote Plesiosaur skeleton, two Warwickshire Roman silver coin hoards and the Cross Hands Quarry Dinosaur.
MAD Museum, Stratford Upon Avon
The MAD Museum does what it says on the tin! Based in the centre of Stratford upon Avon, this quirky attraction displays interactive pieces of mechanical art, in particular; kinetic art and automata. "MAD" stands for Mechanical Art and Design. If you're not quite sure what mechanical art is all about, think of the machines and gizmos used in Wallace and Gromit, Scrapheap Challenge and Chitty Chitty Bang Bang. In a nutshell, mechanical art is usually beautifully crafted, moving sculptures either made to have an exaggerated purpose or made simply for the fun of it.
Shakespeare's Schoolroom and Guildhall
Shakespeare's Schoolroom & Guildhall is where it all began
for William Shakespeare. It's where a bright Midlands schoolboy was educated and inspired to become the world's greatest playwright. Your visit to Shakespeare's Schoolroom & Guildhall will bring to life William's time as a schoolboy, from about 1571 to 1578. You'll find out how his outlook and ambitions were formed by the lessons he attended at the Guildhall and the plays he saw there.
British Motor Museum
Explore the largest collection of historic British cars in the world. Take a walk down the 'Time Road' and discover how both motoring and family life has changed through the decades. Travel through 'Making British Cars' and see how influential the motor industry has been over the years and where it is heading in the future. Get 'Under The Skin' and unravel the mystery of how cars work with interactive exhibits. Experience how suspension has improved over time and compare the difference between rack and pin and power steering. Enjoy a free guided tour with one of the enthusiastic costumed guides who will help bring the cars to life.
Shakespeare's Birthplace
The childhood home of William Shakespeare is a very special place where you can make your own personal connection with the world's most famous playwright. Begin the story at the fascinating Famous Beyond Words exhibition, before exploring the house he was born and grew up in. Our costumed guides will take you on a journey back in time with tales of Shakespeare's family life and his father's glove making business.
Compton Verney
Discover the unique delights of Compton Verney, where there's something for everyone to enjoy. 120 acres of stunning parkland and lake surround an award-winning art gallery and gift shop. Escape the everyday to wander through our historic 'Capability' Brown landscape, marvel at our world-class art exhibitions or have fun in our outdoor adventure playground. All ages are welcome – we're just 9 miles from Stratford-upon-Avon.
---
Shropshire
Blists Hill Victorian Town
Step back in time at this fantastic living outdoor museum where all the staff dress in period costume. Visit a host of restored Victorian buildings, shops, factories, schools, fairground and more and find out what life was like more than 100 years ago. Enjoy a bag of fish and chips cooked the traditional way in beef dripping or sweets from the traditional sweetshop.
Enginuity
This is a fun, interactive science and engineering museum where children can find out more about how things work. Get hands-on and pull a loco, generate electricity using water and dams or challenge your parents to build the strongest bridge. There's also a brand new sensory room for smaller children.
RAF Museum Cosford
Soar through the skies at this free to enter museum which offers a fun, entertaining day out for all the family. Housed in wartime hangars you will be able to get up close to a fantastic collection of aircraft and exhibits. There's a 4D Experience (charges apply) where you can experience the thrill of flying with the Red Arrows, take part in a Second World War bombing mission or First World War dog fight. Don't miss the new flight themed outdoor children's playground.
---
East Midlands
East Midlands Aeropark
Plane enthusiasts shouldn't miss out on the collection of 27 complete air frames at the East Midlands Aeropark, situated right next to the runways of the East Midlands Airport (from where you can see modern airliners taking off and landing). Inside its hanger there are also a number of aircraft engines including a Rolls Royce Avon, Rolls Royce Gem, Rolls Royce Spey, Rolls Royce Viper, Bristol Hercules and Gyron Junior, along with a Link Simulator and numerous other aircraft components, and historic photographs.
---