Easter and Spring Holiday Clubs Round-Up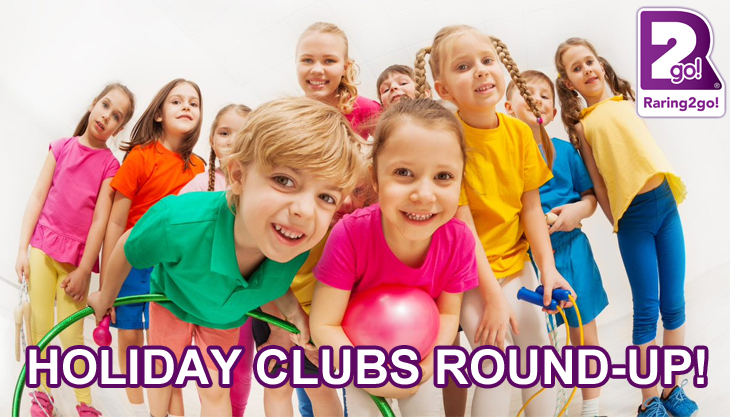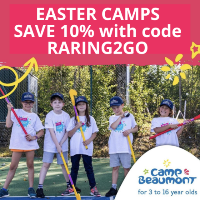 We are so lucky to have an amazing range of holiday clubs and camps in this area, each giving kids the chance to make new friends whilst enjoying a range of activities.  Most camps operate for children age 4-12, but check each camp, as some will take both younger and older children.
Providers may also offer discounts for siblings or when booking multiple days or weeks, and don't forget to check whether Raring2go! have any exclusive discounts too.  Current Raring2go! exclusive discounts are available with Fit for Sport and Camp Beaumont
The list below is our round-up of holiday camps running locally, so hope this gives you some inspiration!
Camp Beaumont
If you're looking for inspiration for the Easter holidays, look no further than Camp Beaumont!  Camp Beaumont, the UK's most experienced day camp provider, is back this Easter at over 40 locations across London and the South-East. With over 50 activities including archery, football, and tennis, their award-winning, multi-activity programme will ensure your child learns new skills, makes new friends, and enjoys their best Easter holiday yet.
Campers leave with beaming smiles and new-found confidence after having enjoyed the most-rewarding day camp experience.  You can get more info at www.campbeaumont.co.uk and SAVE 10% USING CODE RARING2GO
SCL
The SCL Active team is made up of passionate people who are dedicated to delivering the best experience for your child.  Making children smile is what motivates us. Our warm and friendly welcome from engages children from the moment they connect with our us.
SCL Active is inspired by the core principles of sport creating our Fun, Learn and Move approach to child development.  Our themed, creative and adventurous sessions keep children active all day. We specialise in bringing our themes to life to nurture children's imagination, all underpinned by our 'active' when learning philosophy.  From activities to arts and craft, all our sessions have an active foundation to them, developing little hearts and minds as well as winning them too.  See the website for a full list of locations:   sclactive.co.uk/
Casa Clubs
Running camps in Weybridge, Casa's holiday clubs are structured to incorporate a balance of sports activities, creative fun and messy play with 'chill out' time, Competitions, challenges and theme days. Activities include: Cross Bow Challenge, Archery, Messy Play, Free Play, Water Play, Arts and Crafts, Sports, Cookery, team games, dress up Fridays, parachute games and much much more.  Visit casaclubs.co.uk/
Cobham Academy
Cobham Academy is a family run business, running sports camps for 17 years, focusing on inclusion and enjoyment!  Children's abilities vary but without fail all our children progress, have fun, make new friends and complete the course with at least one extra life skill.  This Easter, Cobham Academy are running three separate specialist camps: Rugby camps, Football Camps and Cricket Camps.  For more details please visit: cobhamacademy.com/
Fit for Sport
Get kids active with Fit For Sport's Spring & Summer Holiday Camps that are full of pulse-raising sports and activities!
Available for children ages 4-12 years – Fit For Sport holiday camps offer families flexible and affordable childcare solutions within a safe, supportive and fun environment. Your child can expect an explosion of endless sport and activity as they promise to deliver such an amazing experience, your child will be desperate to come back!
All activities are underpinned by their Whole of Child philosophy that ensures kids are continuously engaged during their time with Fit For Sport. This philosophy provides a basis for all of their programming and split into six categories; Skills for Sports, Let's Get Moving, Wellness, Learning to Thrive, Learn Through Play & Express Yourself.  Find your local camp page, further information about the exciting holidays ahead and confirm your booking now at: www.fitforsport.co.uk/holiday-activity-camps.  Use the code R2G015 to get 15% off!
Stagecoach
Dance, Drama and Singing!  Children and Teenagers can make friends, have fun and develop some great new skills at their fabulous Holiday Drama Clubs and Workshops.  Early Stages Workshops are designed ages 4-6, with Main Stage workshop for those aged 6 – 16 (or 18, dependent on location.  At the end of the week, students will join together to showcase their new-found singing, acting and dancing skills to family and friends.  www.stagecoach.co.uk/
Tree Tops Clubs
Tree Tops Activities are carefully planned to support children in having an enjoyable time at the Holiday Club whilst allowing children to have free play. All children attending Tree Tops holiday clubs are given the opportunity to try a range of activities which include, arts and crafts, cookery, football, tennis, messy play, construction and much more.
For Easter and Summer Holidays we offer special activities on selected days such as Quad Bikes (over 8s), Go Karts (under 8s), Inflatable Fun, Laser Tag and Archery. Look out on the website for these special activities. Siblings and friends can stay together if they wish and children make new friends whilst attending our holiday clubs.  For more info check out www.treetopsclubs.co.uk/