Creation Station teams up with Play Action International for the children of Ukraine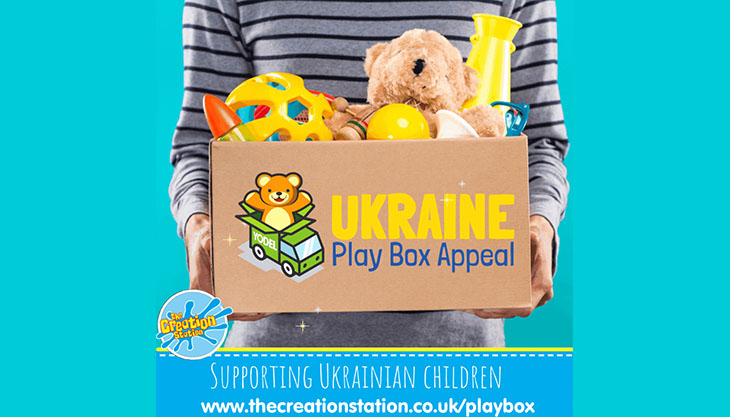 The Creation Station is supporting Play Action International Play Box appeal to help Ukrainian children and families.
The UK's most recommended creative activity company The Creation Station is supporting the award-winning children's charity, Play Action International with the new 'Play Box Appeal'. 
With the UK expected to host up to 200,000 Ukrainian refugees, the appeal aims to support at least 50,000 Ukrainian children with the toys and play items they need to begin to recover from the conflict they have suffered.
Ukraine Play Box Appeal
Play Action International is accepting donations from the public to provide shoeboxes full of toys for primary school-aged Ukrainian children seeking refuge in the UK. People can either make their own Play Boxes or purchase a premade Play Box.
The Creation Station are supporting the appeal by are donating hundreds of Play Boxes and putting together Play Boxes for people to purchase.
Other supporters of the appeal include independent carrier Yodel who are providing the delivery of donations to the charity and Landmark Property Solutions.
To make a shoebox donation, visit Play International's website where you will be directed to print off a label via Yodel's website. Donors will be able to choose any of Yodel's 6,000 convenient drop off points that are within the Collect+ delivered by Yodel network. They will then be processed and delivered to Play Action International's partner organisations, who will distribute donations to those in need.
Murielle Maupoint, CEO at Play Action International said Ukraine's children are going through incredibly traumatic experiences. By supporting them with toys, we hope to give them space to begin to process and recover from the experience. We're excited that The Creation Station and Yodel  are supporting the appeal so we will be able to ensure that children affected by the conflict are comforted by the generosity of people across the UK and know they have not been forgotten."
Sarah Cressall CEO at The Creation Station said "Ukraine children and all families are undergoing incredible stress. We are extremely proud to support this appeal to help children to process their experiences, express their thoughts and reduce stress through play."
Mike Hancox, CEO at Yodel said: "We're very proud to be partnering with Play Action International to launch the Play Box Appeal and to be able to support Ukrainian children and families at such a difficult time. Our network will help much needed toys and play items to be collected across the UK. Our Collect+ delivered by Yodel service offers collection points across the country giving people an easy way to donate."
The Play Box Appeal aims to provide these boxes to Ukrainian children arriving in the UK over the coming weeks, as well as to Ukrainian children seeking refuge in Eastern Europe. To find out more about this new partnership or for more information on how to donate, visit https://playactioninternational.org/ukraine-play-box-appeal/.