Balance Bikes For Kids By Kidvelo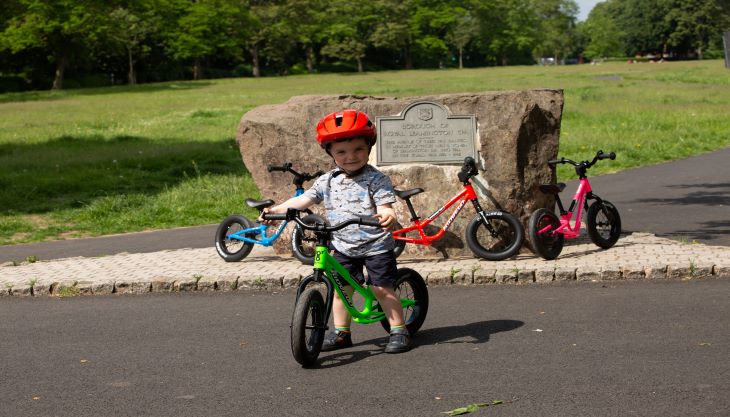 There are so many special milestones that kids reach. First smile, first word, first hesitant steps and then walking. Proud moments for any parent!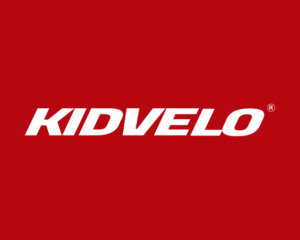 But, what about learning to ride a bike? Maybe you remember the frustrations of stabilisers and the joy when you could ride without them?
Did you know that children can learn to ride a bike from 18-months-old? 
You may already have considered ride-on toys or push along trikes for your toddler, but your child will outgrow them quickly.
Push-along trikes make negotiating curbs and aren't much fun for the toddler as they are just sitting. In addition, some push-along toys have pedals but are often in the wrong position to be effective.
Stabilisers introduce pedalling first, but this is the wrong way around. Bikes with stabilisers are heavy and won't fit a child until three years. However, once the stabilisers come off, we see children falling over to one side immediately, as they have not learned to balance.
There is another way! Have you considered a balance bike? 
As soon as your toddler can walk, a balance bike allows a child to learn to balance before trying to pedal. The skill of balancing is essential when riding a bike, so a balance bike will enable them to break this skill down and learn without even realising they are! As riding a balance bike is intuitive, the kids have fun, gaining speed and confidence without realising they are learning.
So how do balance bikes work in teaching a child to ride a bike?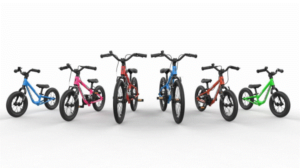 Balance bikes have no pedals.
The rider's feet are flat on the ground. With nothing complicated to confuse, the rider starts walking the bike along. Initially, they don't even sit down and shuffle it along. Then, as the bike leans to one side, the rider will naturally bring it back up-right to move forward. Your child is learning to balance without even realising it.
As confidence grows, they start sitting down, picking up their feet for more extended periods, and moving quicker. They are learning to balance this whole time, and motor skills and coordination are improving. It also frees up your hands to care for a younger child, and you can get around much quicker.
So how do you choose the correct balance bike?
It needs to be light and fit well.
Size: Feet will be on the floor, unlike a bike with pedals. Ignore the wheel and frame size; what matters is whether they can reach the floor when sitting on the seat. Always check the minimum seat height will fit the inseam of your child.
Don't rely on age indicators alone. Some bikes will market for a particular age group, but a child won't always fit as everyone has different leg lengths. A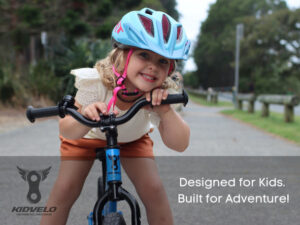 good starting point is around 30 cm for toddlers.
Adjustability The bike needs to cater for your child's growth. You need to know the lowest and highest seat positions, as you will want a few years' use out of the bicycle. Metal frames have an advantage, as wooden bikes rely on 3-4 pre-drilled positions, so adjustability is poor. For example, balance bikes tend to be ridden up to 4-years-old and often, kids still want to ride them, even when they own a pedal bike.
Weight of bike
If the bike doesn't state the weight, it is likely because it's too heavy. Anything over 3.5 KG is too heavy for a toddler who only weighs a few KG. When a heavy bike falls over, it's scary and knocks confidence. Extras such as tassels, baskets, flags and mudguards all add weight. Alloy is far better than Steel, as it won't rust and is lighter. Bikes fitted with stabilisers tend to be 6 kg. We have seen adverts for 9 kg bikes as suitable for four-year-olds. No wonder kids struggle!
Brakes. I am not a fan of them for the under 3's. I've seen children struggle with a front lever system as they can't reach the levers, control or remove their hands from the handlebars to use them. Young children feel safer just stopping using their feet.
Footrest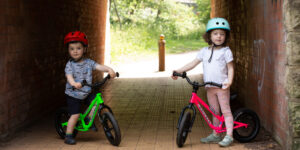 Ideally, they need integration into the frame, under the seat, and where pedals will be on their next bike. So as well as teaching balance in the correct position, the child can rest their feet and take bumps in their legs, not their bottoms! Riding off a curb with your feet dangling hurts! It's the same for advanced balance bike riders. A footrest allows them to put their feet up whilst coasting.
Tyres: Cheaper bikes go for foam tyres as they are light and inexpensive to manufacture. They work fine to start, but they wear quickly and don't offer a comfortable ride.
Air-filled tyres add cost and weight but last much longer and give a far smoother ride and better grip.
I have an older child that can't ride. Can they use a balance bike?
Yes! Kidvelo has designed larger balance bikes that can also fit an included pedal kit, giving you the best of both modes. The Rookie 14 and Rookie 18 both include a pedal kit to transform the balance to a lightweight pedal bike.
How to use a balance bike
The simple method is to leave the bike lying around so the child can pick it up and use it as they wish. Please don't hold the bike for them as the child will figure it out. Gentle encouragement is all that is needed. We have a range of blogs giving helpful tips on encouraging your child.
Kidvelo Rookie 12 – the lightest balance bike at 2.89 KG.
The Rookie 12 is the lightest of top-quality aluminium bikes with pneumatic tyres. Built for adventure, our robust bikes will stand the rigours of toddler riding and last until they are nearly 5-years-old. A great investment! Learn Balance, improve coordination, tune motor skills and learn to ride a bike.
For anything balance bike related, visit kidvelobikes.co.uk.
About Karen Wood Author
– Karen has over 13 years of experience in the balance bike industry. She started retailing balance bikes from her kitchen table in 2009 and grew to become the official Strider Distributor for the UK. In 2019, Karen and her husband then stepped up to manufacturing their brand; Kidvelo Bikes – in the UK. Please visit Kidvelobikes.co.uk to learn more.