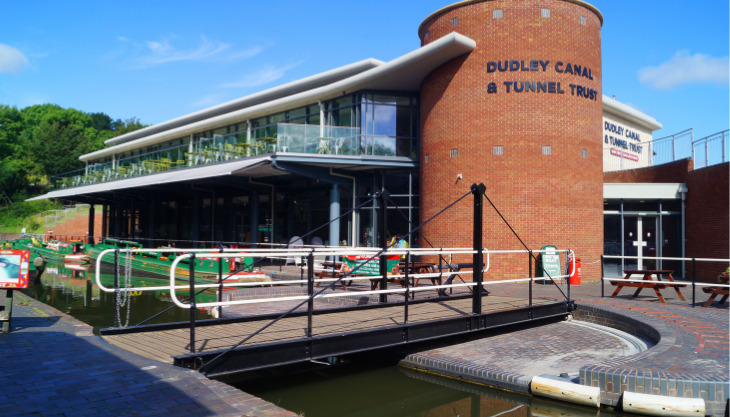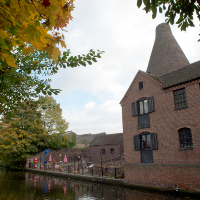 Visitors to the borough of Dudley will be delighted by the variety of things to see and do in the area.  Attractions are diverse and cater for all ages and offer opportunities for individuals to try something new, immerse themselves into unique environments, gain knowledge and most of all enjoy their time.
---
Red Cone
The Red House Glass Cone stands proud in the historic Stourbridge Glass Quarter.  It is a Grade II star listed building and a Scheduled Ancient Monument. At 100ft tall it is testament to over 400 years of glass making in the area. (Built C1790) the Cone is architecturally important as it is one of only four remaining in the UK.  Now a museum, it offers visitors the opportunity to take part in the Juniors and Adults at Museums craft sessions, visit bespoke artisan craft studios, explore exhibitions and purchase unique gift items from the retail shop. It is an ideal base to explore the Glass Quarter, with free parking and an excellent Coffee House.   Admission is free.
Ruskin Centre
Still within the Stourbridge Glass Quarter, you can visit the Ruskin Glass Centre, home to past greats of the glass industry – including Royal Doulton and Webb Corbett.  You can enjoy pre-booked heritage tours for a small donation and learn about the history of glass making in the area.  Artisans operate independent craft studios and an organic cafe offers tempting treats.  Car parking is free. Entrance to the Glass Quarter attractions is free of charge.
Lace Guild
The Lace Guild, situated in the heart of the Glass Quarter, houses a large collection of lace items and artefacts depicting the fascinating history of this heritage craft. The Exhibition Room boasts a changing display of antique and contemporary lace. In addition, there is a comprehensive library of lace and allied textile books, for Lace Guild members to borrow and for textile students to research on site. There is opportunity to purchase second-hand bobbins, equipment and vintage lace; items donated for sale to benefit the Guild.
Dudley Zoo
Dudley Zoo and Castle is home to hundreds of exotic and endangered animals. Why not take part in one of their bookable 'experience' days, or just amble around the paths taking in the World Monument Status Tecton enclosures.   Located at the top of the hill you find the 11th Century motte and bailey castle.  An informative guided tour will take you back through its history and perhaps you will see the infamous Grey Lady ghost.
Black Country Living Museum
Celebrating the Black Country heritage, the award winning Black Country Museum takes visitors back in time with 300 years of history.  Enjoy the sights, sounds, smells and tastes of a traditional industrialised landscape encompassing period shops, houses and experiences.  Relive the past with original trams, traditional fish & chips and raise a glass at the Bottle & Glass Inn public house.
Dudley Canal Trust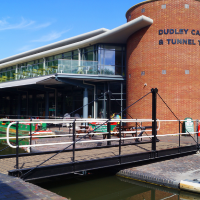 Why not discover the art of legging inside the fantastic Dudley Canal Tunnel and Limestone Mines?   Enjoy a family friendly 45-minute skipper guided boat trip into the heart of the geologically significant limestone caverns under Dudley. Discover the history of our region's mining and canal heritage. Enjoy drinks, snacks and meals in the Gongoozler café overlooking the boats arriving and explore free-entry exhibition galleries. Special events are held throughout the year.
Himley Hall
If you fancy indulging yourself, come along to Himley Hall & Park to enjoy their 'Indulgent Afternoon Tea' experience with delicious finger sandwiches, cakes and scones.  Set in Lancelot 'Capability' Brown 180 acres designed parkland, this 18th century country house this venue holds many events, activities and walks throughout the year. The Himley Hall Terrace Hatch takeaway service is open seven days a week offering hot and cold drinks and a sweet selection. Come and join us in this relaxed atmosphere overlooking the views of Himley Park.
Our 16 miles of navigable canals are ideal for walking, cycling and fishing. There are several parks and nature reserves across the borough providing you with an opportunity to explore the countryside offering a wide range of education, interpretative and instructive walks, talks and organised events for all ages.
Our leisure centres offer a range of activities whether it is swimming, running, enjoying the gym or playing badminton, it's all here for you to enjoy. There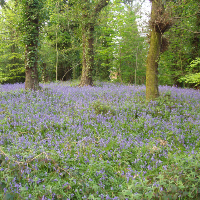 are also many coaching schemes, soft play sessions and catering for birthday parties too.
Perhaps you'll take in a show at one of our borough halls. There's a bustling programme of fantastic live entertainment on offer throughout the year at Dudley and Stourbridge Town Halls, including top live stand-up comedy and music; dance and theatrical productions; family and variety shows; and much more.
The Black Country is home to the Black Country Global Geopark. Geoparks are globally important landscapes around the world, recognised for their exceptional geology, wonderful wildlife and unique cultures. The Black Country is an amazing place to explore with many 'hidden gems' of world class natural and man-made wonders. These are classed as individual geosites such as Wren's Nest National Nature Reserve.
There is something for everyone, so why not visit www.discoverdudley.org.uk to find out more.