Engineered for safety – Built to Last!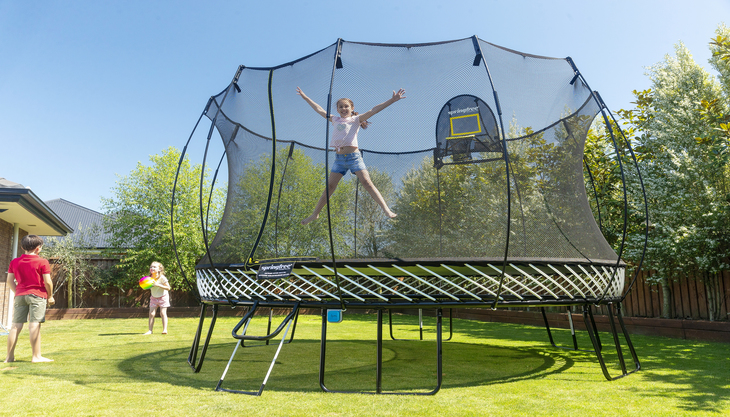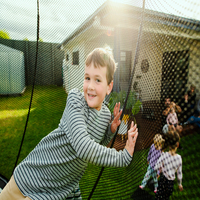 When it comes to buying a trampoline, every parent worries about the potential injuries that come with a traditional trampoline. Nasty springs that little fingers and toes can get trapped in, low quality nets that are easily damaged and frames which are too close to the bounce surface! Scary right? Enter Springfree Trampolines!
Springfree Trampolines are the safest in the world! Safety has always been at the heart of what we do. Giving parents peace of mind but kids years of fun!
But how did Springfree begin?
Over 25 years ago, Dr Keith Alexander wanted to buy a trampoline for his daughter. After some resistance from his wife and finding out that over 100,000 children a year were admitted to A&E with trampoline related injuries, he decided to reinvent the trampoline. Focussing on key areas which caused injury, he engineered out these impact zones, replacing springs with flexible mat rods to create the innovative SoftEdge™ Mat.  He then moved on to the frame, which he made strong and flexible to withstand years of bouncing, then moved the frame to beneath the jump surface to make it impossible to come in to contact with. Finally, he replaced the hard, rigid poles which hold up the net with flexible rods, to remove the risk of jumpers colliding with any hard surfaces. The first springless trampolines had been invented – Springfree was born!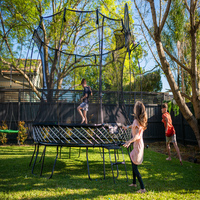 We've engineered the safety, so the whole family can get bouncing. Springfree Trampoline is the perfect garden toy that can be used by everyone, from toddlers to grandparents, to spend that well-needed quality time together. It's great for your health too! Sounds obvious, but bouncing on a trampoline for 10 minutes burns the same number of calories as a 30 minute run! Research has also shown that bouncing can help develop bone strength and balance too.
We have a great range of sizes and shapes to suit every garden, so you'll be sure to find your perfect Springfree Trampoline.
To find out more, bounce over to springfreetrampoline.co.uk, or give our fabulous team a call on 01276 477461.
YOU CAN ALSO SAVE £100 WITH RARING2GO! BY USING CODE R2G100