Our visit to Birdland Park and Gardens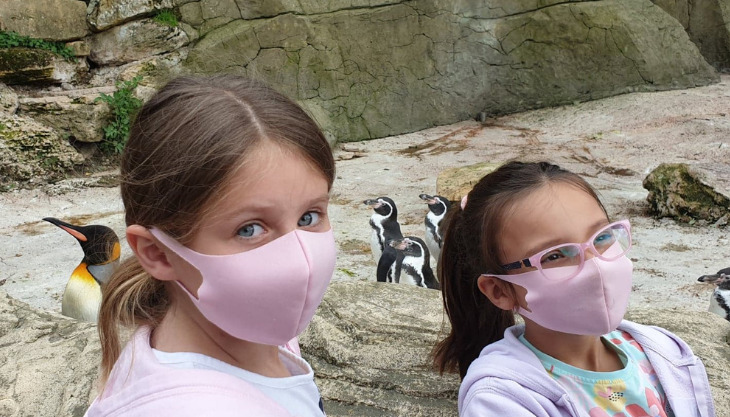 Fancy a family day out? Bourton-on-the-Water is picture perfect.  Set in the heart of the Cotswolds, it has lovely shops, riverside cafes, and some of the best picnic spots right by the water (shallow enough for paddling so don't forget to take a towel).  Families can easily spend time here just soaking in the relaxed atmosphere to the gentle sound of the shallow waters of the River Windrush, but do make time to visit Birdland!  We did, and had a really gre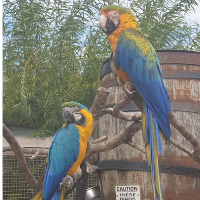 at afternoon there.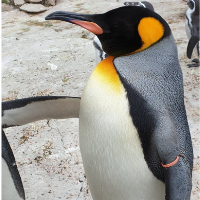 We had to book a slot in advance – simple to do, and this meant we walked straight in, with no queuing at all, so a great start for us all with the children impatient to see the flamingos.  Suffice to say we took lots of detours before even getting to those – the first stop being the penguins.  Visitors can get so close to these, the Emperor penguins are particularly impressive, and far bigger than we had realised.  We enjoyed watching the smaller penguins swimming in their pool – there are several great viewing platforms.  While these do have steps, there were other raised areas for wheelchair users to get a great view too, as well as underwater viewing through the side of the pool.  We found one penguin was particularly playful and seemed to enjoy swimming up to the children peering in at them!  A large display nearby names and describes each of the penguins – you could spend quite some time picking    out your favourites, learning their names and reading all about them.
We then walked around loads of different enclosures, I particularly enjoyed the Africa section, with some very bright, weird and wonderful birds to spot.  You could spend hours there learning all about each of the birds – but the children were very keen to get to those flamingos, so once they spotted each bird, they rushed to the next enclosure to try to spot the birds in that one! I did get to say hi to an African Grey parrot – some of you may know I have an African Grey called Rio (you can see videos of him on the Facebook page) –  he's quite a character.  As parrots are my thing, I fell in love with the macaws – they are really stunning birds, happily sat out in the cafe picnic area!
The children were excited to discover The Jurassic Experience – they loved walking through the wooded area spotting the dinosaurs, playing the sounds they would make, and solving clues along the way.   A fun trail for kids and adults alike!
We certainly did find flamingos – and plenty of them!  Who knew there were so many different species, some far pinker than others? The c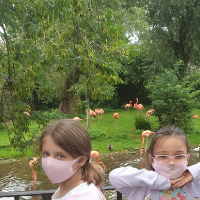 hildren loved watching them walk on their spindly legs, and we even got to see a mummy flamingo feed her fluffy grey chick.
After all the walking around, it was really nice to find a large greenhouse aviary, with individual seating to watch the finches flying around and building their nests.  With limited numbers of people allowed into the park at any one time, we found we could sit there undisturbed, and that the whole time was really relaxed.  Indeed, this may be the perfect time to go if you have any family members with sensory issues, as you know it will not be crowded, and there is plenty of space to go around at a pace to suit your party.
As visitor numbers are currently limited, your ticket allows you in for a maximum of 2 hours –  I was a bit concerned this would make it all a rush, but with no crowds this proved plenty of time to see everything, especially as we had a picnic before entering. The cafe is perfect for light refreshments – and reasonably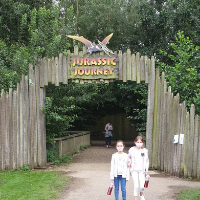 priced enough to buy sandwiches if you did wish to have lunch there.  The menu was limited when we visited, but still enough to choose from, with plenty of drinks and ice creams, and lots of family picnic benches right by a great children's play area.
We all had a lovely afternoon there, and were pleased to have been able to visit.  It is good for wheelchair access throughout, with a wheelchair accessible toilet and baby change facilities in Birdland AND in the nearby car park.
(*unfortunately there currently are no disabled changing places facilities in the  Birdland park or car park, click the link to find the nearest).
Top tip: Birdland does not have it's own designated car park, but is situated right next to a large public car park.  But this is a popular area, so be sure to arrive in plenty of time to park up – if you get a space straight away that gives you more time to explore, and enjoy the riverside area.  Win win!!