Local things to do with the kids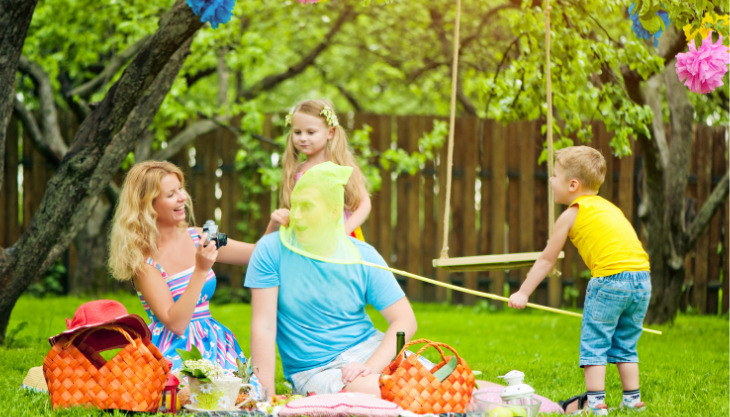 Considering days out with the kids? As the half term holidays approach, there are plenty of things you and your family can plan to do.  A simple walk in the park or woods can be loads of fun – so why not pack the blankets and a picnic, to make it an all day adventure?  There may be ducks or swans on your explorations, we all know children love to feed them – but bread is not the best thing.  Take along a few of the treats listed here so the children can feed them in the healthiest way possible. To add to the fun, maybe you can take along the bikes, or hire them and enjoy a cycle ride too?  Now is the perfect time to explore some destinations right on your doorstep, or some local you've never tried. To help you choose, here are a few of our favourites in Herefordshire.  Others across Worcestershire and the surrounding area can be found in our feature here.
Don't forget to check with any venues about booking requirements, opening and arrival times, and restrictions before booking tickets and before setting off!
Bishops Meadows, King George's playing fields, Castle Green and Castle Pool: Very close to the centre of Hereford, there are loads of pathways for you and the family to enjoy.  Set alongside the River Wye, keep your eyes open for fish, swans, kingfishers and other wildlife.  The children's play area near the Leisure pool is well equipped, and some of this equipment is wheelchair accessible.  The car park near the Leisure Pool is possibly the best car park to use for families with young children for direct access to this is a traffic-free area, with accessible flat  footpaths and cycle lane so its ideal for walking, cycling, pushchairs and wheelchairs.  There are tennis courts, pitch and putt, and cycle hire (but do check for opening details). The Victoria Bridge is an ornate footbridge linking the Bishops Meadows to Castle Green, and a short walk along Cantilupe street will lead you to Castle Pool – a site popular with ducks! Please be careful what you feed them. Walking through the Castle Green will take you to Hereford Cathedral, and they really welcome families and children there, with some awesome trails for the children to follow – Dragons, Beasts & Pilgrims, or they can follow the Through the Keyhole trail. Throughout the parks there are plenty of benches to rest and relax on.  To spice things up, you can even go hunting dinosaurs through the Love Exploring app.  Read our review here. You can also use the app to find routes to Hereford's numerous historic plaques, art pieces, and places of interest.  Public toilets located in the car park next to the Leisure Pool are closed, but The Leisure Pool staff are very helpful and allow members of the public to use theirs. The public toilets on the Castle Green are open. There is a Changing Places toilet facility located in the Leisure Pool and at The Old Market.
Bodenham Lake: There is free, but limited parking, with room for around 15/20 cars. There are benches, and the field would be nice for a blanket picnic (although not ideal for everyone). There are lots of different easy walks, one of which takes you to the public footpath network. There's a nice church on one of the walks too. There are two bird hides, two orchard tree fields, and lots of wildlife – birds, bat's and otters. There are no facilities though, so no cafe or toilet, but nearby Queenswood has these (including a disabled-accessible toilet.  Nearest changing places facility is The Old Market, Hereford). When we last went it was muddy in places but there are gravel trails to follow which provided we haven't had much rain would be fine for buggies and wheelchairs too.  Dogs are allowed! I'll try to find out some more on suitability. (thank you to our lovely reader Jess and her daughter Mia for this review).
Queenswood: Lovely park with woodland walks and arboretum, and The Gruffalo Trail for your younger members. The main pathways are accessible to pushchairs and wheelchairs, and there is a fabulous view point where you can see across Herefordshire to the hills and mountains of Malvern spanning across to Brecon. Benches are dotted throughout the trails, with some picnic benches are near the visitor centre. The visitor centre and toilets have been closed due to covid – but portaloos are available in the mean time. There is ample paid parking (readers suggestion is to keep your parking ticket after your visit, as incorrect fines have been issued in the past).
Here are a fe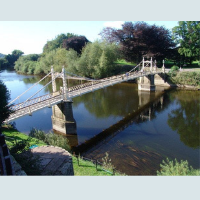 w of our other favourites you may want to visit:
Eastnor Castle has a lovely park with lake, arboretum, deer park, children's adventure playground and a woodland play area too.  Dogs are welcome and there is even a designated area to allow dogs off leads. And of course, there is the castle! With is a wheelchair & pushchair friendly path, toilets, refreshments, car park and much more.
Hampton Court is another great place to let the kids roam – the gardens are absolutely beautiful, plenty of space for picnics, a children's play area, a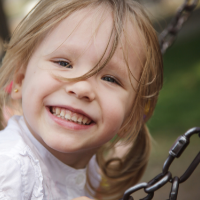 nd they often have events on for children, especially throughout school holidays. There are toilet facilities, cafe, and of course the castle!
Croft Castle (National Trust) has lovely gardens, parkland, tea room and toilets – there is even a second-hand bookshop! And of course, the castle! HR6 9PW
Berrington Hall offers more lovely open space for the kids to run around (note – no bikes or scooters are allowed, but dogs on leads are welcome).  This Georgian mansion also has stunning gardens created by 'Capability' Brown.  You can tour the hall too. HR6 0DW
The Weir Gardens (National Trust) offers a really lovely a riverside walk and beautiful gardens.  Bring a picnic – there are no catering facilities –  but it is well worth a visit, and only 15 minutes drive from Hereford.  Not the best for pushchairs but it is possible (especially if your little one likes to hop out to stretch their legs).  Sadly this one is not really accessible for wheelchairs. HR4 7QF
Belmont Country Park is a great park close to Hereford city centre, opposite a large Tesco store. 18 acres to explore with mown pathways, picnic benches and a sm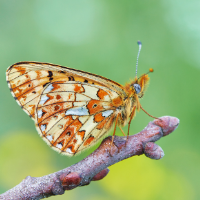 all children's play area. HR2 9RX
Ayelstone Hill Park Another lovely free park  with carparking, great pathways and benches throughout. HR1 1JJ
Haugh Woods offers 350 hectares of mixed woodland and is home to lots of wildlife including some very rare butterflies (Pearl-bordered Fritillary pictured). There are 2 waymarked butterfly trails from the main car park. Pathways are hard forest tracks with some gentle slopes. HR1 4QX
The Quarry, Tupsley Another lovely open green space suitable for families with children. Community events are sometimes held here too. HR1 1SU
Credenhill Woods  This is a Woodland Trust site covering over 224 acres, with a long and fascinating history. It has beautiful woodland full of wildlife including deer and badgers,  geoCaching, and fantastic views. Free car parking. The main lower routes are surfaced paths.  But other paths can be steep with steps.  HR4 7DB
Breinton Springs offers lovely rural walks, one of which is part of the    'Wye Valley Walk' –  a footpath which runs from Hereford city along the river. Free parking is available in Lower Breinton too. HR4 7PG
Check out our feature for information about lots of other parks and outdoor spaces in or near Worcester here.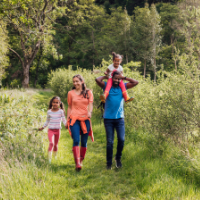 Do you know of anywhere we have missed?  Just email us details here and we can get them up here.