Local Dad & Swimming Champion Chris Cook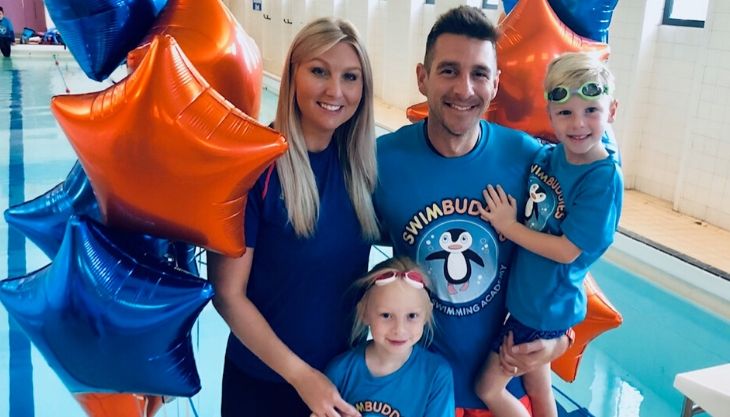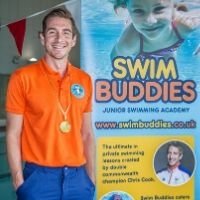 After competing for Great Britain for 10 years & a career which saw him rise to Double Commonwealth Champion, British & Commonwealth Record holder and World & European Medallist Chris hung up the trunks in 2009 and retired from international swimming.
Chris's next challenge was to start his own business with wife Erica – Swim Buddies Swimming Academy – which celebrated its 5th Birthday this September!
Where you good at sport as a child?
I was ranked 5th in my swimming club in South Shields, for my age group¦ sounds pretty good, but there were only 5 people in the club my age! Regardless of how good or bad I was at sport I measured it by what I got out of it – fun, fitness and friends. You can't beat sport for making life long friends.
How old were you when you started swimming?
3 – I was taken to swimming lessons as I showed no fear water!
Where did you learn to swim?
Temple Park Leisure Centre, I was taught by Linda Woodhouse & Linda Askew – I still keep in contact with them now. I feel passionate about getting the right start in sport, it can shape your pathway if you get the right teacher.
In three words sum up the keys to your success?
Boldness, Commitment & Focus
What were the best & worst moments of your competitive swimming career?
The best – Competing – standing up wearing the Team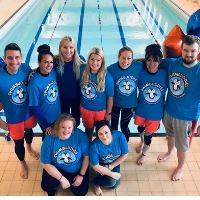 GB gear and the chance to show the rest of the world what you have been working so hard at for so long. It was so exciting and I always knew it wouldn't last forever so I savoured the moments.
The worst – Getting up at 4:30am for training!
I missed out on a place on the Manchester Commonwealth Games team in 2002 and I was devastated. I had to sit and watch it on TV. I used it to fuel my motivation won 4 years later.
How did you meet your wife Erica?
We met swimming. We were team mates when we joined the City of Newcastle Swimming Club. Erica was a great youth swimmer, representing GB, so swimming is in the family!
How has becoming a Dad changed your attitude to life?
Having Charlie (our little girl) helped me to rekindle my love for life again. I went through a tough patch retiring from the sport. My last ever race was the Olympic final and a week later I was wondering what to do with my life. This lasted  three years and was a tricky and stressful time of our lives. Charlie helped me understand what is truly important in life and we've never looked back since. Children are a blessing & a miracle, I look at my kids and think how incredible they are.
If you could give one piece of advice to an expectant Dad, what would it be?
​​​​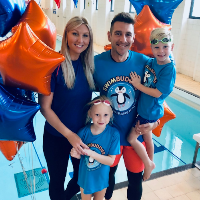 I was always told that  "You're going to get some things right and some things wrong but if you make every decision with ˜what's best for my family?" then you're going to be the best Dad."
What would be your perfect day?
Up early and hit the gym or the pool, followed by a family breakfast. Then a trip out with Erica and the kids, the beach is a favourite. Back home to put our feet up to watch a box set or have friends around for food on the evening.
What do you like best about the North East? 
There is still a real sense of community in the North East and I'm so proud of that.
Do you have any habits that you would change ?
Yes, I over analyse. Some things you just have to leave to the breeze. I've learnt a lot from older people in business, they stay calm and focussed whilst making none emotive decisions, that's so important when you are learning to perform and harness success on any level.
Where did the idea for Swim Buddies come from?
I've had a fantastic time swimming always dreamt of growing a learn to swim business – the idea has been there since I started teaching swimming at the age of 16. The name came about as we have made so many friends through swimming.
What do you enjoy most about Swim Buddies?
Teaching swimming myself. I love seeing a swim buddy progress, especially if they are trying to master something tricky.There is nothing better than seeing the look on their faces as it sinks in what they've achieved!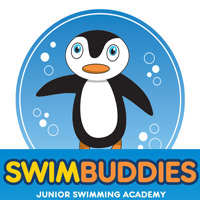 What advice do you have for other parents thinking of starting their own business?
Love what you do, it's quite simple. Erica and I have stopped counting the hours we work because it is quite scary how much we put into Swim Buddies, this is our shared passion & we do whatever is required to get the best possible learn to swim experience for our Little Buddies.
Swim Buddies currently offers lessons out of two pools in Darlington – call 07948 548038
Email info@swimbuddies.co.uk
Visit Swim Buddies website for latest class details.
To find out more about Chris visit Chris Cook's Website