Eva reviews Hellens Manor in Herefordshire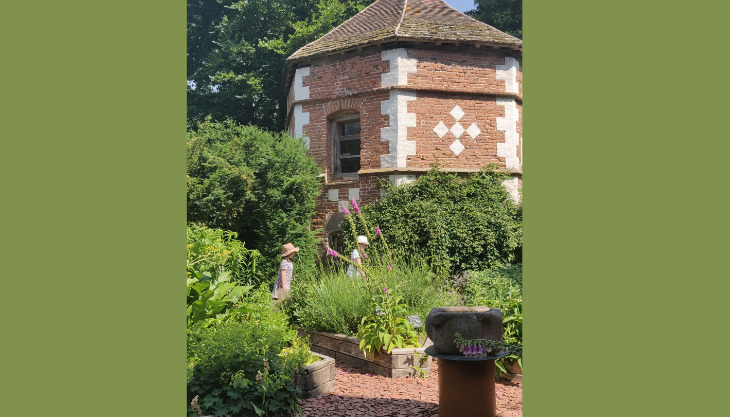 'Hello my name is Eva, I'm nine years old, and I went to Hellens Manor, in Herefordshire with my mum, my brother and my friend Melanie on Wednesday (24th June).
It was a blazing hot day when we arrived so we ducked under the shade of the trees while mum grabbed her bag, and who did we see right there next to the car park but the donkeys! Blossom and her son Plum. They're super friendly with the fuzziest ears.
From th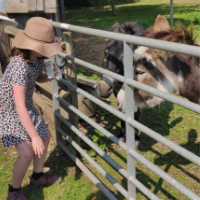 ere we walked through a brick archway, that had an old wooden door. It looked ancient but not as old as the fancy carriages we saw or the house. Mum told me that the house had been there a very long time but what we saw today was mainly from the Tudor period. Kings and Queens have visited the place!
We couldn't go in the house that day but we did walk around the gardens. There were lots of flowers- roses everywhere and there was a place called the physic garden. That was a place you could touch the plants and smell them. All of them were used to make medicine and potions just like in Harry Potter.
There were two big lakes at the manor that we had to creep around as quietly as we could, because we wanted to see the baby chicks that had been born. That was funny because my brother who is five just couldn't keep quiet. But we still saw them!
We had a  race through the woods to see who could get to the labyrinth first. Melanie won that and then we all went in together, and we didn't want to get lost! We found the centre and you could just see the manor house with the pools.
They were cool, the pools I mean, we saw so many dragonflies and even a newt!
We had our picnic before we went in the last part of the gardens, that's called the wild meadow. We saw the manor bee hives, which we stayed a way from. Mum said we so should see if we could count the butterflies, but there were so many!!
We ended the trip at the stone circle where there were words written on the stones!
We didn't make it into the main woodlands, mum said we could save that for our next visit, which hopefully will be soon.'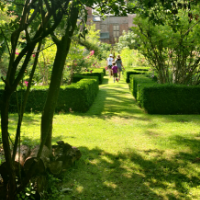 Well done Eva – such a great review.  We love hearing all about the places our local families visit, or things they have done – maybe the best birthday party, or a walk in the woods.  Please do send us in your reviews and become one of our Roving Reporters!  Find out how here.
If you would like to know more about Hellens Manor, you can visit their website here.  Please do mention you saw Eva's fabulous review here on Raring2go!