Days out with a wheelchair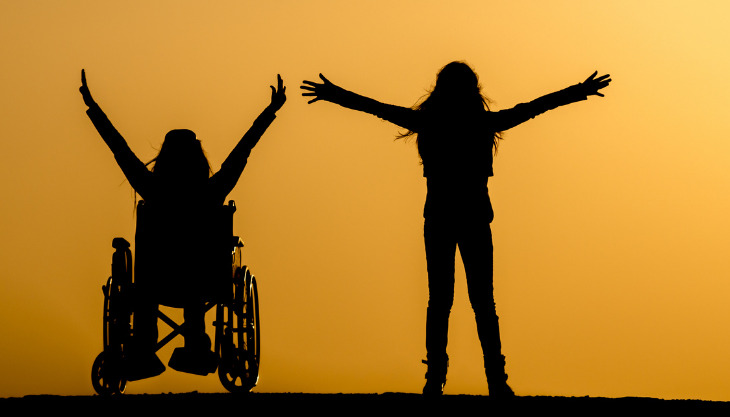 As a parent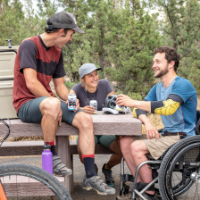 of a (now adult) child with a progressive muscle wasting condition, I have learned over the last 18 years that the term 'wheelchair accessible' is the equivalent to 'one size fits all' – often misleading and, until you actually try it out, there is the risk it doesn't fit anyone very well!
Add in the complication of our changing access needs over the years, and the issues were highlighted even further.
We have read (and acted upon) recommendations from other wheelchair users, only to find the access they found 'perfect' has proven difficult or even impossible for our situation. I recall us booking a 'wheelchair friendly' holiday cottage for a 2 week stay – only to find the equipment we needed to get my then fully grown teenage son from his wheelchair into bed, or to use the bathroom, would not fit in the rooms we needed it to, and the single step into the cottage (which you could 'bunny hop' a manual wheelchair up) made it impossible for my son to even get his powerchair through the doorway into the cottage.  Not so 'wheelchair friendly' after all.
Most people don't realise the varying needs those requiring 'disabled access' have to meet, which is why the generalised 'accessible' label can never be trusted without further (often extensive) research. The great news is anyone can help with this, just by looking out for certain details when out and about, and sharing what you find.  Taking note of these details and mentioning them in reviews can help a family like ours decide to visit somewhere – or not.  You don't have to make any claim of accessibility – the detail in your review will help families like ours decide if its sounding promising (read on for the kind of details which would prove helpful).
Much of the 'visit / don't visit' decision for wheelchair users and their families is based on the type of wheelchair used, and if the wheelchair user can 'transfer' – meaning can they get in and out of their wheelchair with little or no assistance.
There are 2 main types of wheelchair: manual wheelchairs, and electric powered wheelchairs (or powerchairs).  Manual wheelchairs can be split into 2 categories:  user propelled (where the wheelchair user turns the wheelchair wheels themselves), and assistance wheelchairs, where the wheelchair user relies on someone else to push them in their wheelchair. Powerchairs are motorised wheelchairs, running on rechargeable batteries and are usually user controlled by a joystick on the armrest, but some can also be assistant-controlled by a joystick on the backrest of the chair. Powerchairs need very little physical strength to operate, and when in the usual 'drive' mode, will only move when the joystick is pushed – so no unwanted rolling down hills!
'Wheelchair Accessible' – the problem with the label.
They do say the devil is in the detail – but for us the devil is in the lack of it!  So here are some details you can spot and mention in reviews.  This kind of detail can really help us and families like ours decide if an attraction, walk, or venue is potentially accessible for us.
Details of interest: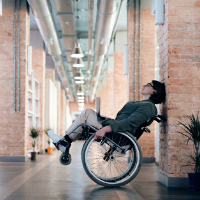 Steps / high kerbs.
Are there any unavoidable steps or high kerbs?  If so, how high, and how close together are they? Manual wheelchairs tend to be (comparatively) light weight, and as such can tackle the occasional step, widely spaced steps along a path, or high kerbs, by tipping the chair onto its back wheels, much as you would a pushchair.  However some wheelchair users who self propel may not be able to manage this without assistance.  But for most powerchair users, a simple step above a certain height is absolutely inaccessible. Powerchairs are heavy, cannot be tipped onto their rear wheels to lift the front wheels off the ground, and have very little clearance underneath.  A single step for a powerchair user can be an insurmountable barrier, and  put a stop to a day out.  This is particularly frustrating when it comes to parking – dropped kerbs in car parks are vital.  There are also often steps in the doorways to buildings.  Some venues will have portable ramps to overcome these – but you may need climb the step and enter the building to request the ramp.  That's obviously only possible if someone in your party can climb the step and enter the building to request it…
Ramps and hills.
Shallow ramps and / or hills are usually fine for all types of wheelchairs, so long as they don't go on for too long and are on a surface that is smooth!  But someone trying to self propel a manual chair up a long ramp or hill can be really challenging, and even prove impossible.  When a self propelling wheelchair user releases their grip on the wheels, the wheelchair rolls backwards.  A hand rail at the correct height for someone seated in a wheelchair can help, so its worth mentioning if you see one.  But many wheelchair users will need assistance to navigate ramps or hills.  Pushing someone in a wheelchair uphill isn't easy, and for most of us, can't be sustained for long!  The exception: Powerchairs, however, can usually go up and down hills and ramps all day long with absolutely no problem at all, so long as the surface is relatively smooth and not too steep.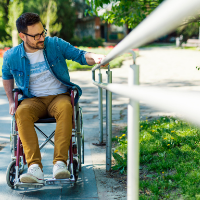 Surface.
Just mentioning surfaces in reviews is so helpful!  Solid, flat, wide surfaces are best for all – tarmac or smooth concrete for example are perfect. Loose gravel or bark (especially if these are deep) can be difficult or even impossible to use a manual wheelchair on as the wheels tend to sink in and become difficult (or impossible) to turn – although a powerchair may manage on these types of surfaces much more easily.  Grass – this can be really hard to self propel a manual wheelchair across, and can be really tough going on anyone pushing a manual wheelchair.  Manual wheelchair users may wish to avoid grass, espe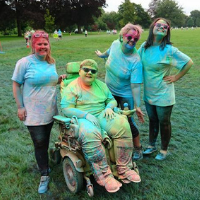 cially if it is wet, muddy, or the grass is left to grow longer than an inch.  If the grass is covering pot holes and / or tree roots this can make it even harder going.  BUT for powerchair users, so long as the grass isn't too long, the ground isn't boggy, there isn't mud and there are no large unavoidable pot holes, grass is an ok surface, especially if it's dry.  We have even done The St Michael's Hospice Paint Run across grassy fields with my son in his powerchair and he completed the whole course unaided.  It took several weeks to get all the paint from his chair though! I certainly could not have pushed him far in a manual wheelchair across that grassy field.
Accessible routes and Miles without stiles.
There is an ongoing campaign for more accessible public walks, not just for wheelchair users, but for anyone with mobility issues.  Stiles can prove a barrier for many people.  If you wish to find walks without any stiles on route, type in 'miles without stiles' on your internet searches for details of stile-free accessible walks and wheelchair routes across various regions of the UK.
There is another fabulous website Walks With Wheelchairs which provides free information on routes suited to those with varying access challenges.  And for those with limited mobility wishing to explore areas in South West England, you can hire an off road mobility scooter through Countryside Mobility
Sand
Dry sand is nigh on impossible for wheelchair users.  But thankfully some beaches do have beach wheelchairs for hire.  These have big wide wheels which can be pushed over sand, and can even be pushed into the sea, giving wheelchair users access to the waves.  For those who can transfer, or are light enough to be safely lifted, these offer a fantastic opportunity for families to access the beach.  However, those wheelchair users who cannot transfer without hoisting often find they are unable to access these kind of chairs as very few have hoisting facilities available.
Toilets.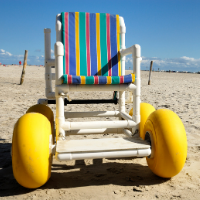 When public toilets were closed during lock down, others got a small insight into how vital being able to access a loo is.  For many of us, although places are reopening, access to the right facilities is still not easy to come by. Just because a toilet has the wheelchair image on its door, this does not mean it is wheelchair accessible! Here are those details you can help to spot and share:  The access to any 'accessible' toilet should be step free, but how big is the space in the toilet?  Could you easily fit a wheelchair and an assistant in the space? Is there room for the assistant to move around the wheelchair in the space?  Is the toilet cubicle big enough to pull a wheelchair alongside both sides of the toilet for easy transfers? For many that's the detail      they need.  But for many others, transfers from their wheelchair require hoists, along with an adult size plinth for undressing and dressing, and space for 2 assistants (and the empty wheelchair of course). This is actually our first consideration when we plan days out, holidays, even my son's college and work placements have been dictated by accessible toilets – in our case it all revolves around Changing Places facilities – with hoisting, space and plinth.  Changing Places facilities usually have a distinct sign on the door showing wheelchair, hoist (looks a bit like the bottom of a coat hanger), plinth and assistant space. There is a great m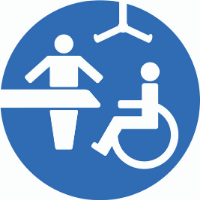 ap here showing where these facilities can be found. There are ongoing campaigns to increase the number of changing places facilities across the UK, to ensure access for all.  You can read more about Changing Places and the campaign here. You can read more about the importance of Changing Places toilets for families from Karen Hoe – Changing Places Development Officer – in her brilliant feature here.
If a venue doesn't already have this level of facility, and sadly many don't,  venues can hire them in. Check out Mobiloo  – they offer awesome changing places on wheels, along with an assistant to help those needing to access their facilities!  These vans can be hired by venues for all kinds of events.
For families requiring the use of hoists, check out the website CHuC 
We are keen to share access information in our reviews of local venues, attractions and activities.  Please feel free to contact us here with your access experiences and reviews.