A review of Rudolf at Midlands Art Centre.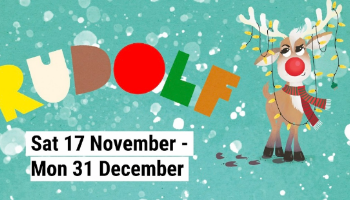 I was very happy to be invited along to the Midlands Arts Centre to watch Rudolf. So I took along my two gorgeous god children Ava and Harper who are always happy to help me review the latest shows.
We exc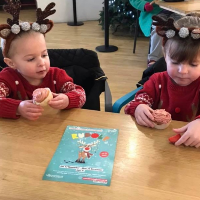 itedly arrived at the Midlands Arts Centre suitably dressed for the  occasion to watch Rudolf. We had read the books in preparation and had our Rudolf jumpers and reindeer antlers on, absolutely Raring2go!
As we were a bit early we took advantage of a coffee and a Rudolf cupcake before we made our way into the theatre along with a lot of excited school children. We found our seats, adjusted our antlers and got comfortable for a ride to the north pole !
The actors were on stage busying themselves on set and tidying up but they needed some help from the children as to what to do, which was great fun with the children joining in and shouting back.
And so it began with an array of animal noises that all wanted to be heard and seen at the safari park ,  all dazzling in their simplistic but effective costumes and  the children couldn't take their eyes off them .
We eventually met Rudolf who wasn't quite sure where she was or what she was, so she did her best to fit in but she couldn't quite be herself with all the other animals. She wasn't a very good Flamingo , or a 'Brummie' Zebra or a slippery snake which made her very sad but thankfully she did make a friend with Baggie the Owl. Baggie told Rudolf to be brave,  strong and to fly over the oceans back home .
Where was home ? Was Rudolf an alien like they all the animals said she was ?
Why did her nose shine so bright ?
To find out what happened to Rudi you need to go with all the family to watch this amazing show at Mac Midlands Arts Centre in Birmingham as it will absolutely fill you with joy, delight at the wonder of Christmas.
All the children loved it and were captivated by the very clever set and actors from the beginning to the end as the story took you high above the clouds and over the sea .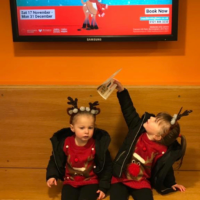 I can't recommend the show enough, another first class co -production between  Mac and Pins & Needles Productions.
So if it comes around again , go and see it !
An amazing cast
Hannah Bristow (Rudolf)
Lakesha Cammock (Baggie)
Tea Poldervaart (The Earl)
Creative Team
Writer: Mike Akers
Director: Anna Girvan
Designer: Charlotte Cooke
Composer: Stuart Barter
Puppet Director: Laura Cubitt
Lighting Designer: Claire Childs
Stage Manager: Lucy Price
review by Lisa Bayliss with a little bit of help from Ava & Harper