A Review Of Chopwell Pump Track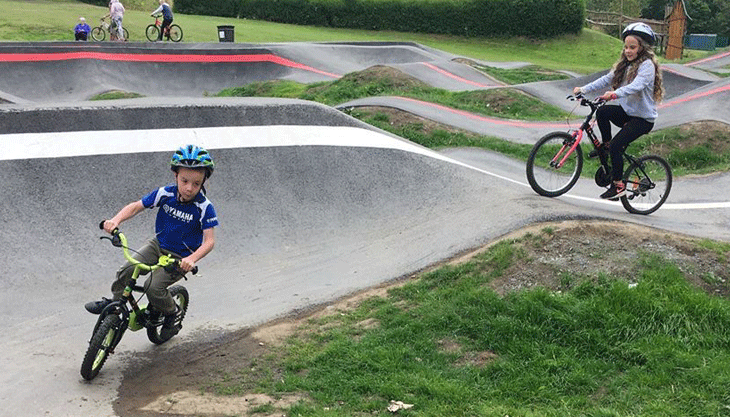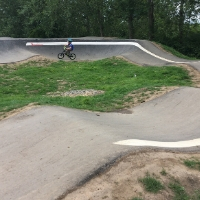 NEW Pump Track – 235 metre track plus a 40 metre beginner track has recently opened in Chopwell. NE17 7EH ​​​​​.
We visited earlier this week with a 6 year and a 9 year old, who are both quite confident on their bikes but were still a little nervous to begin with, so we started off on the white beginner circuit before advancing onto the red main circuit.  We arrived at 11am and it was quiet when we arrived, we stayed till 2pm and at times it did get a bit too busy for our liking so we kept alternating between the park area and the track. We had our bikes with us but there were scooters too, there was even an electric bike whizzing round!
The park area consists of a long zip wire, swings, a wooden fort complete with rope bridges and a fab den within a weeping willow tree.  There is also a football pitch and a crazy golf (I'm not sure if this was open at the current time as I didn't get that far to check it out!). There was toilet facilities within the pavilion over looking the park where you could also buy hot/cold drinks and sweet treats!  There is plenty of free parking too!
We had a really lovely time and will defiantly be back over the summer, here are our top tips if you decide to visit!
1. Wear long sleeves or elbow pads if you have any, we saw several falls when we were there and they looked pretty nasty!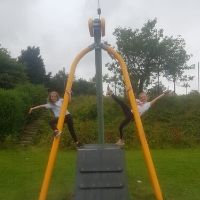 2. Pack wipes, plasters and bruise cream, just in case!
3. There is no seats around the tracks for spectators so either take a chair or picnic rug.
4. Make sure you have plenty of fluids, the kids were sweating after racing around on the tracks.
5. Don't forget your cycle helmets!
Use postcode NE17 7EH to find the park or if you prefer directions; coming from Blackhall Mill, as you come up into Chopwell (bungalows on your right) you will come to some shops (including a hairdressers & chip shop) turn right just after the shops and follow the road round. You will go through a built up housing area, watch for a lamp post with "PARK" on, turn left and follow road up to car park.
HAVE FUN!
Other tracks to try recommended by our readers include:
Gallagher Park, Bedlington, NE22 5PU
Northumberland Park, North Shields, NE30 2EY
Fisher Lane, Alnwick, NE66 2FE
Fitz Park, Keswick, CA12 4HS