Garden Creations with Wellie Tots Bromsgrove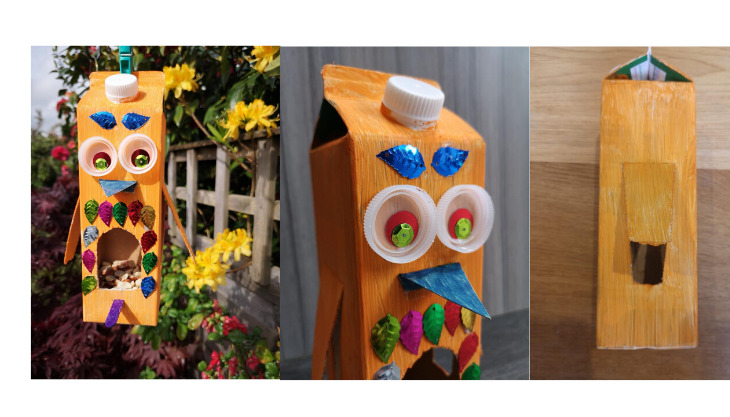 Hi, I'm Laura – the founder of Wellie tots, a brand new preschool class focusing on gardening, nature and everything outdoors.
I was overjoyed to be asked to share a couple of ideas with you all to try and keep your little ones occupied during the day. As a mother of two small children myself, I know how hard it is to always be thinking up new activities to grab your child's attention. I hope you find these ideas helpful, engaging and fun, using things you have lying around the house.
Activity 1- Recycled bird feeder
My ch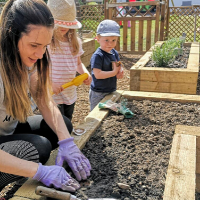 ildren and I love attracting all wildlife into our garden, especially birds. I am also passionate about recycling as much as we possibly can whilst we are doing our play and crafts.
What you need:
An empty juice carton (or fresh soup carton if you have one of these lying about)
Paint
Lollypop stick
Bird seed (if you don't have any, you can also feed birds apples/pears/cooked pasta or rice)
Step 1
Cut out a small door shaped hole in the front of the carton, along with a flap on each side to create the birds' wings – (an adult to do this part as you will need a sharp knife/scissors).
Then paint the carton with whatever paint you have lying about. We used a tester pot that we found in the garage as a base coat and then one of the kids' paints on top to make it nice and bright.
Step 2
Make a small slit underneath the opening and push in a lollypop stick or any stick you can find in the garden. This will create a perch for the birds to use whilst feeding.
Step 3
Add some eyes and a beak to your bird. We used bottle tops for the eyes and card for the beak. Again, be creative with what you have lying around the house.
Step 4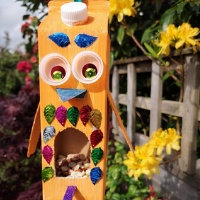 Fill your bird feeder up with seed and find something to hang it outside with. You could use a bit of string, peg or garden wire to do this.
Hang your bird feeder in your garden. Birds like to feed at different heights but 1 ½ metres above the ground is a good guide to use.
Sit back together and watch the birds coming into your garden to feed. This can sometimes take a few days whilst the birds check out the new feeder, so don't be disheartened if you don't see any birds straight away.
I hope you enjoy getting creative with nature and this has provided some inspiration for you to use over the next few weeks.
Please check out Wellie tots on facebook and instagram and visit our website www.wellietots.co.uk to find out more about our classes.