Interactive exhibitions at Baltic, Gateshead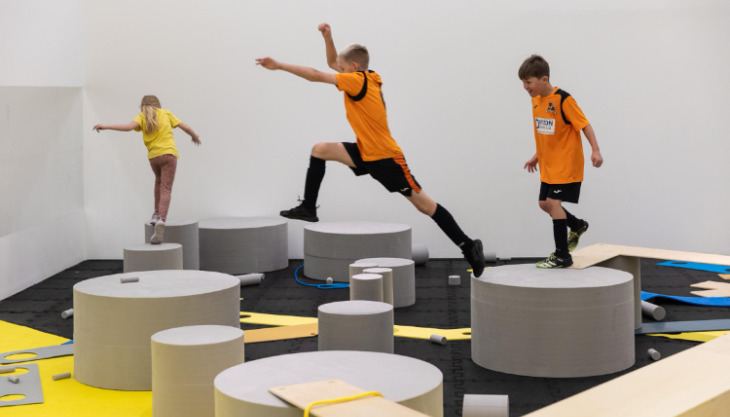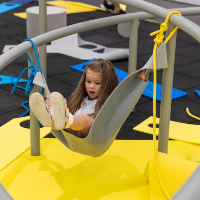 Albert Potrony: equal play
This exhibition is open Wednesday to Sunday, from 10am to 6pm, until October 2022. You can drop-in for free anytime during our opening hours.
If you have any questions or would like to chat about your visit before coming, you can email us on myexperience@balticmill.com or call us on 0191 478 1810.
As you approach this exhibition on the Ground Floor, you will encounter a large wall text with the title of this exhibition Albert Potrony: equal play.
As you enter the gallery, you will notice a large space filled with number of materials including shapes, rails, ropes and a mirrored wall. The colours are predominantly yellow, blue and grey.
This exhibition is a play based exhibition where the audience are encouraged to experiment with the materials.
This exhibition is open to visitors of all ages, and is particularly popular with our younger audience. Sometimes this area may be noisy.
To the left there is a smaller room. Inside this room you can watch or listen to a film.
There are items to read and look at.
This area is likely to be quieter.
There are two wooden benches. Feel free to take a seat while you watch the film and read the materials.
There will be a BALTIC Crew member standing in the gallery, they are there to help and assist you.
Once you are ready to leave this gallery, head back and exit the same way you entered.
Also at Baltic, until May 8th 2022,  you may wish to visit the Ad Minoliti: Biosfera Peluche / Biosphere Plush exhibition which is Ad Minoliti's first solo show in the UK. Minoliti uses feminist and queer theory to generate alternative interpretations of painting, design, architecture, art history and visual language.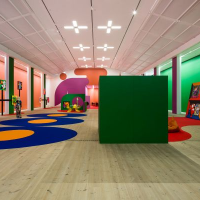 Trained as a painter, they draw on the rich legacy of geometric abstraction in Latin America, such as Argentina's Arte Madí and the Asociación Arte Concreto-Invención, both founded in 1945, which embraced playfulness in painting and painted on irregular shaped canvases, sometimes experimenting with three-dimensional objects.
There are bean bags on which you can relax and take in the colourful surroundings of the exhibits.
For further information please visit https://baltic.art/