What's new & Halloween Fun at Lightwater Valley?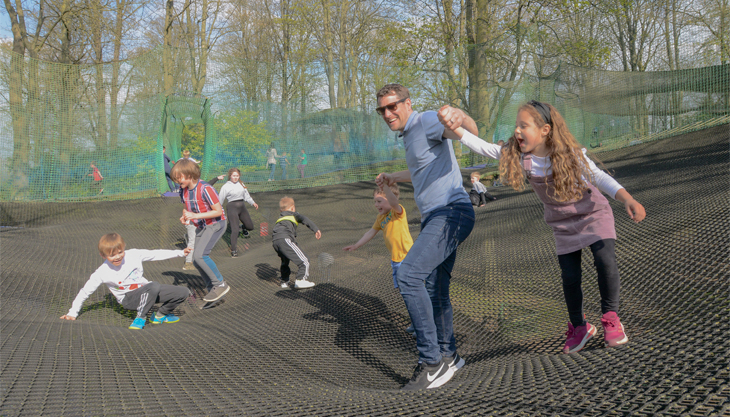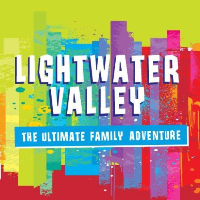 We were kindly given tickets to enjoy a day out at Lightwater Valley Theme Park. Having been many times before, I was keen to find out what changes have been made.
Lightwater Valley have restructured their park, with activities aimed at families with children up to the age of 12. We just happened to have a 13 and an 11 yr old with us and we can honestly say that we ALL enjoyed a great day out. While I missed the Ultimate rollercoaster, I was the only one! (Not everyone is an adrenalin junkie). There are still plenty of rides to keep everyone entertained and despite it being a busy Saturday, there's so much space and so many things to do that we never had to queue for more than 5 minutes.
The highlight of the day for me was the Treetop Trails. This used to be a separate attraction (near to the entrance) but is now included in the price. It's really good fun for ALL ages and there's no special skill or ability needed really, just a bit of energy. It's not like some tree adventures where you need a harness. The trail is completely enclosed with nets and if you don't look carefully you don't even realise how high up you are, so even if you're afraid of heights it's actually very achievable. It's totally safe and great fun. There are huge bouncy "flat" areas for jumping about, linked by pathways and slides (I avoided the slides as they looked a bit too much if you're old and unfit!). Us grown-ups sat for a while with a cuppa at a picnic table while the kids ran around. There's a dedicated area for the under 5's too so they can play without fear of older kids bumping into them. There's a cafe selling toasties and other snacks but you can bring your own picnic. It makes for a lovely respite in the woods, away from the main rides.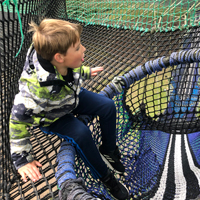 The highlight for our kids was the Flying Cutlass, a pirate ship that lurches up and down, really quite fast! They forced me to go on twice!! They went on 6 times! The back seat is the most exhilirating. We also enjoyed The Ladybird coaster, the Powder Kegs, the Skyrider and the Carousel. The Swan boats were fun (I'd never been on those) especially as we got the kids to pedal and steer which was very funny as the sibling rivalry took hold! There were a few rides we didn't do – I will never go on the Eagle's Claw again, that's strictly for younger thrillseekers, same goes for the Waltzers (I can't do spinning). We also missed Splash Falls as there was a bit of a queue. Top tip – do that first as it may be quieter plus it gives you time to dry off if you get wet!
Please note: some of the rides have a height restriction. We did see a couple of children who weren't allowed on a ride as they were too small. For the Eagles Claw and Flying Cutlass you have to be 1.4m tall and Skyrider is 1.3m.
A new addition is a Virtual Reality Coaster (extra charge) where you can ride the Ultimate (or alternative rides). I'm pleased for future generations that the Ultimate lives on and they can experience what it was like. I loved it, back in the day! They really enjoyed their "ride".
For younger children, Lightwater Valley really is an endless playday. There are so many fantastic playgrounds to explore, both indoors and outdoors. There's a safari train ride and a tractor ride through the farm, loads of little rides for the tinies, places to bounce, dig in the sandpit and lots of climbing frames.
All the charging about makes you hungry. Best thing is to bring a picnic and plenty of drinks. There are lots of tables dotted around. There are cafes and snack huts but the offer is fairly limited and constant refreshments soon adds up when paying for four.
One attraction that we didnt have time for but would have liked to do was the Jurassic Adventure Golf. It's an extra cost at £2.50 per person (under 3's free) but with 18 holes, it's good value and looks really fun.
Unprompted comments from James aged 11 "If you enjoy fast and dizzy making rides you will love Lightwater Valley" and Lucy aged 13 "Much better than Blackpool Pleasure Beach".
The theme park is open at weekends until October 17th. It's a 1hr 20 minute drive from Newcastle. Open 10.30am – 5pm. Tickets are £16.50 per person for age 4+. Children age 3 or under are FREE. All tickets must be booked online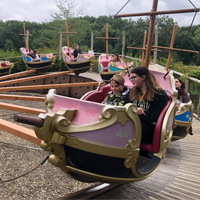 This Halloween…
Over the last few years, we've really enjoyed the Halloween event at Lightwater Valley. This year, there's loads of spooky delights planned for the week of October 23rd-31st, including:
Monster Meet & Greet  – grab your chance to get a photo with our 'friendly' halloween monsters and creepy characters…and don't forget to share your pics with us – we love seeing them!
Spooky Magic Show  – suitable for the whole family – our spooky magic show is full of surprises and delights to keep you and your little monsters laughing.
Trick or Treat Doors  – knock very loudly! Will it be a trick or a treat?
Black Magic Voodoo Walk  – dare to take a teeth-chattering walk through our eerie woods…do you believe in black magic??
Voodoo Doll Trail  – keep an eye out for our hidden witchery voodoo dolls lurking around the park. Find all thirteen and you could be in for a chance to win four theme park tickets for the 2022 season.
Jinxed VR Ghost Train – prepare to be jinxed on our virtual reality ghost train. Take a ride through this strange and captivating world with the master of mystery himself, 'Jinxed'. Additional charge applies.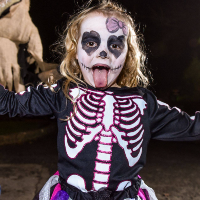 Plus, don't forget to come along in your spookiest Halloween fancy dress costume, it's way more fun when you do and you may even win some Halloween goodies! Wear decent footwear and wrap up warm as it can get cold, especially after dark. Tickets are £18.50 per person for Halloween Week. Age 3 and under is FREE.
For more information please visit the website at www.lightwatervalley.co.uk
Review by Anna Skelton, editor. We visited on Saturday, September 4th.