Mum's Baby Group Becomes Lockdown Lifeline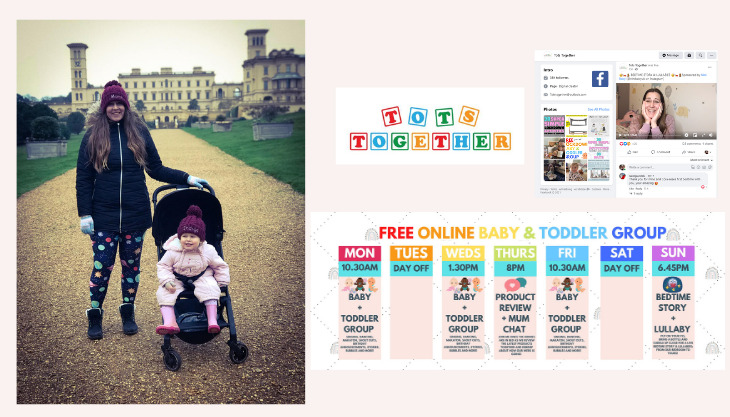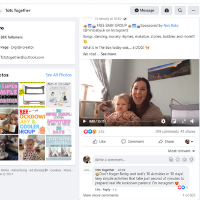 When the first lockdown hit in March 2020, Becky Woodburn, mum to 17-month-old Indigo (Indi), wondered how missing the baby clubs she'd come to rely on would affect her. Asking around a few friends and fellow mums, she decided to set up her own little baby group from her lounge, via Facebook Live. What started as a project for her and her friends less than a year ago has now become the hugely popular online baby group and community of parents Tots Together, with almost 40,000 followers. She has gained 3,000 followers in January 2021 alone.
"I used to go to loads and loads of baby groups, not necessarily weekly, but our diary was always full up," she told Raring2go! "The first one (Facebook Live) was viewed by 30 people – and I was sure that they were all Facebook friends with no kids, who were just watching it to mock me, and see what a disaster the whole thing was!" She said. "Honestly it has absolutely just grown, and grown and grown from there."
By the third session, comments on her posts started to come in from people she didn't know, from outside her native home of the Isle of Wight: now she has families and schools joining from as far as India and Australia.
The 30-minute sessions aimed at the under-5's include singing and dancing, Makaton sign language, and other fun activities; and Becky also reads bedtime stories on the page. But the Facebook Live sessions aren't always plain sailing – sometimes during sessions Indi behaves like any toddler and what would have been a tantrum in private, is suddenly being streamed to hundreds of people.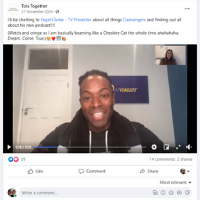 "Sometimes she plays along, she has a ball, she's singing along to every song, she's jumping up and down, she's giving me hugs, she's loving it. And then other times, she just has the mother of all meltdowns, everybody sees it and I've got to deal with it in front of 400 people watching live… and I had to be a mum telling their baby 'no, that's enough, you're not hitting'," she said.
But it's these sessions, she added, from which she has the most positive responses, with other mums commenting how they're glad not to be alone. It's this realness that has probably propelled the popularity of the group, she said.  "That's definitely not what I set out to do and I'm definitely not claiming to be some amazing mum, but if I can help people, that's brilliant."
"Normally," she added about tantrums, "You might see it first hand, but because we don't have any baby groups, you're not seeing it first hand. [So] You feel like the only person going through it."
With popularity picking up, Becky wondered if inviting a celebrity to appear on the page might be feasible. After only a few emails, Nigel Clarke, Presenter from the CBeebies show 'Baby Club', agreed to appear on her page. "Honestly I couldn't sleep, I was so excited!" she said. "Within 24 hours I was face-timing Nigel Clarke!," she laughed.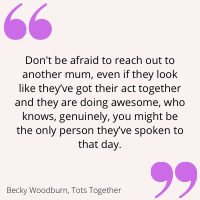 Tots Together sessions are free via the Facebook page, and Becky is committed to keeping the content free – particularly as parents might not necessarily be able to afford baby clubs in the current economic climate. To keep things ticking over, she has managed to find sponsorship on a week-by-week basis, and also conducts product reviews.
For Becky the lockdown has been particularly isolating, as her Father was diagnosed with a cancerous brain tumour in June 2020, meaning she and her daughter needed to shield. Besides the odd socially distanced walk, Becky has barely seen anyone else. So what is her advice for other mums who are struggling with the pandemic regulations?
"You're not alone," she said, "I know there are so many parents up and down the country that are struggling right now. And even the ones that are making it look like they are coping – even if you looked at me and thought wow, she does so well and she's coping – there are times that I am not."
"Give yourselves a massive pat on the back," she continued, "Because you are doing incredibly. At the end of the day, if you are surviving right now, and you are getting through the pandemic with a child – it doesn't matter if they're watching more TV, it doesn't matter if they are eating too many snacks, it doesn't matter if they are absolutely bouncing off the walls all day long, at the end of the day if you are keeping them fed, if you are keeping them happy, you are keeping them loved, then there is absolutely nothing more that you can do."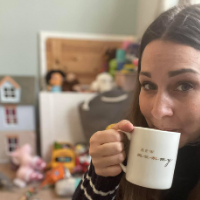 Tots Together baby club sessions are held on Mondays and Fridays at 10.30am plus Wednesdays at 1.30pm; while Thursday night at 8pm hosts product reviews and a mum's chat; and Sundays at 6.45pm is the bedtime story and lullaby on the Tots Together Facebook page.
Becky is also posting one very simple activity a day, using items in your home, via the Tots Together Instagram page.