Izzy Judd Launches Summertime Play Series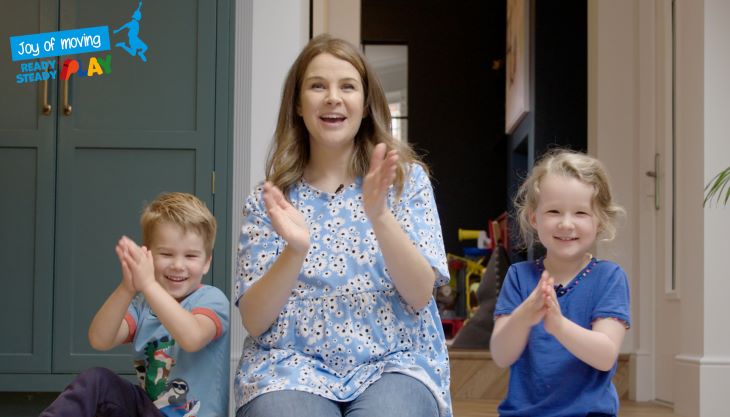 ​​​​​IZZY JUDD LAUNCHES SUMMERTIME PLAY SERIES TO ENCOURAGE FAMILIES TO GET READY…GET STEADY…AND PLAY!
55% of children in the UK do not meet the recommended daily physical activity guidelines
To celebrate National Playday on Wednesday 4th August, Izzy Judd shares some tips and games to get families active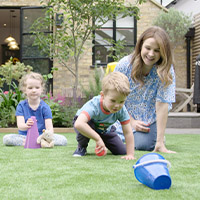 Over the past year, the nation has spent more time indoors than ever before, and research has shown that 55 per cent of children in the UK do not meet the recommended guidelines of taking part in sport and physical activity for at least 60 minutes every day*.
So, to help inspire families to get moving Izzy Judd, mum of two, has teamed up with the Joy of moving programme to bring parents the 'Ready, Steady, Play' series – just in time for National Playday! From Wednesday 3rd August , Izzy and her children will demonstrate three fun, quick and easy games every day that families can take part in.
The series host, Izzy Judd, says: "I love keeping active with my family, but looking for activities that keep my children entertained and moving can sometimes feel like a challenge – especially for the duration of the summer holidays. I know that my children move more when they are having fun, which is why I've really enjoyed being involved in the 'Ready, Steady, Play' series. The series showcases a range of Joy of moving games that not only encourage kids to have fun and get active, but they also help them to develop key skills! There's something for the whole family to enjoy in the series – I know my kids certainly loved it!"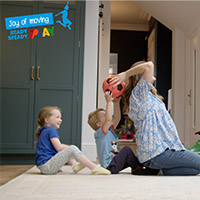 68% of parents consider physical activity an important factor in their child's fulfilment and 3 in 4 parents love nothing more than running around with their little ones**. The 'Ready, Steady, Play' series inspires parents and their children with exciting games and activities that they can do to have fun together.
Izzy also offers some helpful tips, which aim to engage parents and children, and bring the joy back into moving:
Plan ahead: getting my children involved with plans early on can inspire them and gets them excited for fun-filled activities. You can sit down with them to make a colourful and exciting plan, thinking about possible summer activities and ensuring you have a balance of playdates, crafts and active days out.
Try to lead by example: children take in so much of what we do, without us even realising. Inspiring a love of movement at a young age can help them to continue those positive habits into adulthood. For example, my daughter Lola often asks me if I can be a ballerina with her for the day, and engaging in physical activity with her can help foster an early love of movement.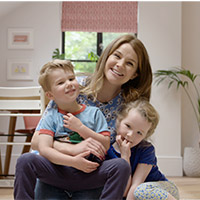 Engage in free & helpful platforms: there are many free activities and platforms out there. The Joy of moving Resource Hub is a great option. It's freely accessible and has plenty of games and activities that you and your family can do indoors or outdoors, from Wind Bowling to Hot Potato – there is something for everyone!
The Joy of moving programme, a global Corporate Social Responsibility project developed by Ferrero, is designed to inspire active lifestyles in children. Charlie Cayton, Director of Corporate Affairs and Communications at Ferrero UK, comments: "We know that getting children active can be difficult, especially during the summer holidays. Statistics have indicated that only 55 per cent of children meet the current activity level guidance and this has been further amplified by Covid.
"We know that children are more likely to get active if they are enjoying the activity, and the Joy of moving programme encourages children to get moving through the medium of play, capturing the fun approach, which we know is key. We are pleased to partner with Izzy in the new 'Ready, Steady, Play' series and we hope to continue to inspire families to get active and have fun this summer."
The 'Ready, Steady, Play' series, along with plenty of additional games and activities, is available for parents to view and download on the freely accessible Joy of moving Resource Hub