Top Indoor Games for Rainy Days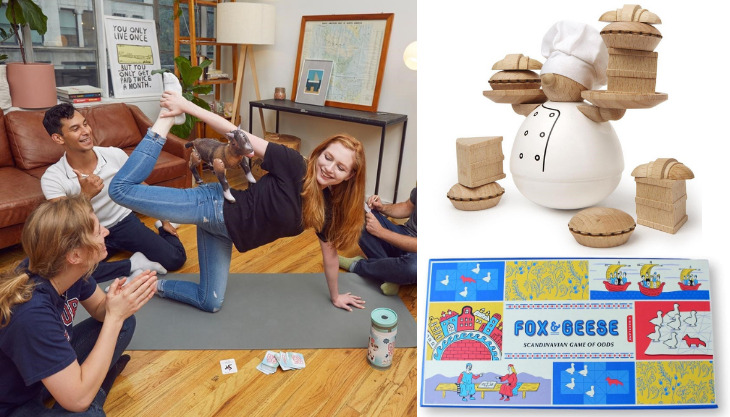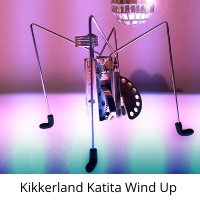 Activities for a rainy day!
Popmaster £7.98 from Amazon 
Inspired by the game played live on Ken Bruce's popular BBC Radio 2 show, this fun card game puts players' musical knowledge to the test with a series of pop-themed trivia questions. Are you up for the challenge or will you be 'one year out'?
Goat Yoga £16.55 from Amazon 
Hilarious yoga-inspired game with an inflatable goat. Get ready for some un-bleat-able fun with goat yoga- the game where toys have to complete crazy yoga poses with an inflatable goat.
Geomag Super Colour Magnetic Construction Set – 52pc £29.99 from The Entertainer 
Creative kids will love building new designs with this 52-Piece Super Colour Magnetic Construction Set from the Geomag range. Whether they're building colourful structures or testing new designs, kids will love getting creative with this 52-Piece magnetic construction kit. With everything they need to get started the set includes handy hints and tips, this kit promises hours of fun. Plus, it's made from 100% recycled plastic. Suitable for 5yrs+.
Catchphrase card game £7.99 from Amazon 
Say what you see in this fast-paced family card game based on the hit TV show Catchphrase. Go head-to-head with your opponent to see who will be crowned catchphrase champion.
Kikkerland Table Top Bowling £15.00 from Jarrold 
Test your skills and finesse with this compact bowling game. 2+ players. weighed down pins, bowling balls have stainless steel balls inside.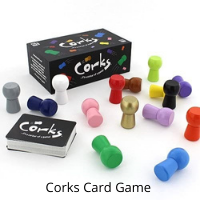 Kikkerland Table Top Curling Game £12.99 from Cotswold Trading 
Have you always wanted to have the famous curling game in your home but never had space? Well, look no further than Table Top Curling Game from Kikkerland. You can have hours of fun practicing your curling skills without taking up loads of room; as all you need is your tabletop and you're ready to play. ​​​​​​​
Kikkerland Mechanical Creature Awika £22.99 from Trouva 
Articulated mechanical creature for the whole family. Now you can wind up this toy, rather than each other.
​​​​​​​
Kikkerland Sparklz Wind Up £23.75 from Trouva 
Sparklz thinks it is the Greek god of lightning, but it's still trying to get the hang of thunder and rain. Meanwhile, Sparklz just wobbles around aimlessly with its little rudder, looking for a meaning in life. Turn the key and the disc will spark as Sparklz teeters along.
​​​​​​​
Kikkerland Katita Wind Up £17.50 from Kikkerland 
Katita will dance around your table or floor, just wind it up and watch it go!
​​​​​​​
Corks Card Game £14.99 from Amazon 
Have you got what it takes to hold aloft the golden cork? Corks is a fantastic family party game that you can play with up to 14 people. If you want to play with even more, Simply add on another corks game. The more players, the more fun. ​​​​​​​
Kikkerland Make Your Own Tambourine £13.94 from Amazon
Get shaking with your very own tambourine. Decorate and personalise to make it unique! Includes everything required to make your instrument – just add paint, glitter, stickers… Approx size 17 x 17cm
​​​​​​​
Kikkerland Make Your Own Harmonica Kit £7.00 from Urban Outfitters 
Make your own harmonica with this vintage-inspired set. Assemble the pieces and get your musical juices flowing.
Kikkerland Gorilla 3D Wooden Puzzle £9.60 from Fred Aldous 
Improve concentration, problem-solving, and motor skills with this Gorilla 3D Puzzle. No tools or glue are needed to bring your wooden animal to life. Simply push out the pieces and assemble according to the diagrams included inside.
​​​​
Kikkerland Wooly Mammoth 3D Wooden Puzzle £10.62 from Amazon
Create your very own mammoth. It's not wooly, but still adorable.   ​​​​​​​
Kikkerland Owl 3D Wooden Puzzle £10 from Utility 
Twit-Twoo it's great fun to do. This puzzle will look stunning once finished.
Kikkerland Tiger 3D Wooden puzzle £10.49 from Trouva 
Following in the footsteps of famous tigers, like Tony (well almost) and Sabor this wooden puzzle is great to build.
Geomag Magicube Magnetic Animal Shape Blocks – 9pc £23 from The Entertainer
Creative kids will love building with this 9-Piece Magnetic Animal Shape Blocks set from the Geomag Magicube range. Suitable for little inventors, this Magicube set is sure to delight. Kids can use the different shaped blocks to create cute animals, then attach the wheels to make them move. With handy instructions to help get them started, this playset is sure to provide hours of entertainment. There are 9 colourful blocks included in the set. Kids can follow the easy-to-understand instructions or use their imaginations to create limitless designs. For ages 12 months and over.
Kikkerland Balance The Baker £20 from Beaumonde 
Take turns piling up the parties and baking goods with the Balance the Baker stacking game. The ideal present for chefs and foodies.
Taskmaster Board Game £19.99 from Smyths 
Based on Dave's number one entertainment show hosted by the mountainous Greg Davies and his assistant Little Alex Horne, Taskmaster the board game brings the very essence of this popular show to the comfort of your own home. Compete with your friends and family in a series of ludicrous tasks to be crowned Taskmaster Champion. Judge or be judged. It's time to summon your inner Taskmaster. Contents: Game board, rules sheet, scoreboard playing pieces, wipe-clean pen, Taskmaster trophy, and 200 task cards, including video tasks from Alex Horne himself.
Kikkerland Fox and Geese £28.73 from Amazon 
Scandinavian Game of Odds. Fox & Geese is unique in that it is a game of odds with unequal pieces and different moves for each player.