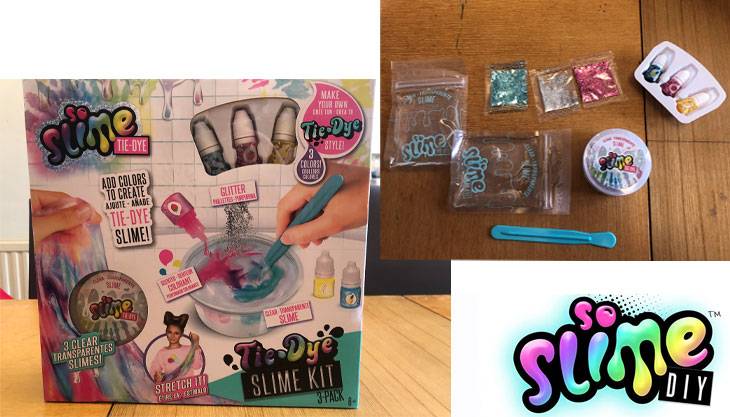 Product Review:
So Slime Tie & Dye Kit – £9.99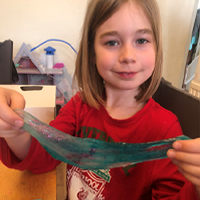 Grab your ready-made slime and let the fun begin! Create brilliant coloured tie dye spirals and patterns using the vibrant, scented colourants and watch the magic happen! Mix it up, stretch it out and be amazed by the gorgeous Tie Dye effect in your slime!
3 x Ready Made Clear Slime
3 x Scented Colourants
3 x Decoration bags
1 x Tool
Review:
So, after receiving the "So Slime Tie Dye" kit we were at first a little apprehensive after looking at the box, which looked like it contained most parents worst nightmares…glitter and slime. The product is well packaged and comes with 3 slimes, 3 scented colourings, 3 glitter packs and a spatula for mixing. These items all come in re-sealable bags so you can re-use if you choose to use again and all bags are filled with very generous amounts.
We took 2 of the slimes out of the packets and gave one each to both of our daughters who are aged 7 and 4. The instructions say that the slime will take a couple of minutes to stretch out but we found this to be a little longer, more like 10-12 minutes to get the required stretch needed.
Next the girls added the coloured drops to the slime, I was surprised how this wasn't as messy as I thought it was going to be and the girls then enjoyed adding the glitter (which obviously was a little messier!) to the slime which stuck together with ease.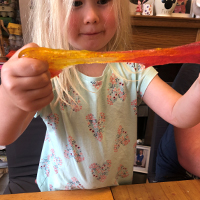 The Slime consistency keeps together really well and although you will probably not get a long stretch as advertised on the cover (unless you combine the slimes) its not gloopy and doesn't come unstuck which is a nice little bonus.
The girls played with the slime for a good 45-60 minutes and you can put the slime back into the re-sealable packets so they can keep it clean and re-use. Both my daughters would nearly every day re-open the packet and play with the slime for a good 20 minutes. I have been amazed at how durable it is and even after 2-3 weeks the slime is still stretchy and has maintained its colour and integrity without any of the glitter coming off.
The product overall was a success as the girls keep on coming back to it and its very easy to use and doesn't take long to make….I think the kids just love the fact they feel they have made something pretty and it has that lovely squishy feeling in between their fingers… but the plus side for parents is you won't need to worry about finding bits of slime and glitter everywhere for days!