Burton Agnes Hall – an absolute gem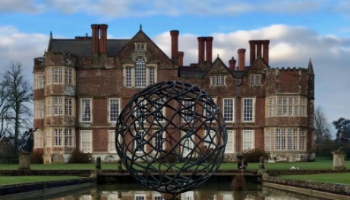 Burton Agnes Hall is a stunning stately home, set against a backdrop of fields, meadows and flowers. That's my idea of heaven, but what impressed me most on our recent visit is how much there is for children to do.
First though, a confession. On this visit we didn't even go into the Hall. We had come with the dog and wanted to explore the gardens – there was so much to see that we were in the gardens for over three hours – with an ice cream stop in the middle of course!
After receiving the map from the lovely lady in the shop, who pointed all the different areas out, gave the children a trail to do and cleverly offered a prize if they brought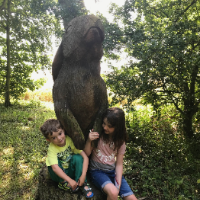 her pencils back, we decided to do the Woodland Trail first.
The trail is shady, peaceful and easy to find. It was calm beneath the huge trees, punctuated only by the sounds of my own children shrieking with delight when they found another beautifully carved woodland animal to tick off their sheet. They are varying sizes, and some are more hidden than others. The children loved running ahead and finding them, and the dog loved a good sniff of them to check we had found the right one :-). We found all of the sculptures bar one, which, when we took our pencils back we found out had sneaked off to the Walled Garden instead.
Once we had completed the woodland trail, we decided to make our way through the magical fairy door area to the play area. I had just expected a few doors at the foot of the bigger trees, but this place is a veritable fairy metropolis! Fairy doors, windows, swings, gardens and ladders adorn most of the trees. Some fairy houses are short and squat, some very tall like a block of flats, some were a little cul-de-sac of a few houses. I was convinced that if fairies do exist, they are TOTALLY living in the gardens of Burton Agnes Hall.
Through the fairy city lies a fantastic playground built mostly from wood. The play area is clean, safe and has a toilet there too. Dogs can't go in the play area, but we sat on the grassy area on the periphery and it worked really well.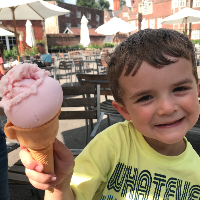 Having played themselves out, it was time for an ice cream, some cake, a cup of tea and a gluten free beer (it is the holidays after all) all of which can be bought at the lovely tea room.
Our final stop was the walled garden to find the naughty final sculpture on the trail, along with the elephant fountain and hedge maze. This turned into an unexpected half hour more of fun and hilarity, mostly as I got completely lost in the maze and our seven year old had to be sent in on a rescue mission.
This place is beautiful, fun and so well thought out,   it is somewhere we will definitely be visiting again. And again. And again.
For opening times and prices click here.